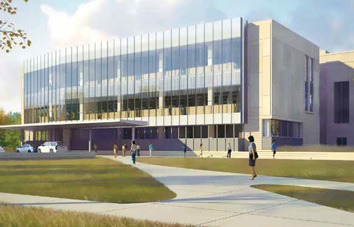 A design for the $21.6 million expansion of the Indiana University School of Dentistry at IUPUI has been approved.
The IU Board of Trustees gave unanimous approval to the design for the 45,000-square-foot addition on Friday, IU announced.
The 136-year-old school at 121 W. Michigan St. has been operating in facilities constructed in the 1930s, 1960s and 1970s, and is due for an upgrade.
Projected groundbreaking for the new building is summer 2016 with completion expected in summer 2018.
Indianapolis-based Ratio Architects and Ann Arbor, Michigan-based SmithGroupJJR designed the schematic for the dental school. In recent years, these firms also designed the Robert H. McKinney School of Law, the Eugene and Marilyn Glick Eye Institute, and the Campus Center on the IUPUI campus.
Plans call for the three-story addition to be located on the east side of the existing school. It will contain about 125 patient-treatment rooms and registration and waiting areas.
The addition will create a courtyard by connecting to the three existing buildings at the ground level. Upper floors will be connected by glass walkways.
The design calls for limestone on the exterior of the north side and a modern-glass facade on the east.
 The projects has received more than $4 million in donations. The rest will be financed by dental school capital funds, auxiliary services revenue, indirect cost recovery funds and gifts to the IU Foundation.
The IU school is the only dental school in Indiana. More than 80 percent of the dentists in Indiana are alumni of the school.
 
Please enable JavaScript to view this content.