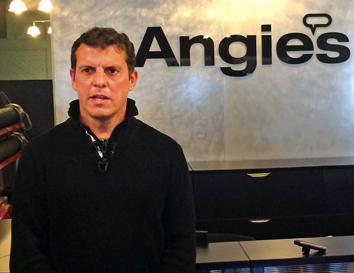 Republican politicians in Indiana who'd rather compare themselves to Mitch Daniels than Mike Pence—and who fear primary challenges from social conservative groups—may be in for a little extra campaign cash in future election cycles.
Former Angie's List CEO Bill Oesterle filed paperwork Friday to create a political action committee called "Free Enterprise Indiana," which aims to recruit and support economy-focused candidates, get them through primary challenges and, ultimately, into elected office.
Oesterle says he's "tired of distractions" like the Religious Freedom Restoration Act championed by Pence earlier this year, which opponents said could legalize discrimination of gay Hoosiers.
"I'm concerned that economic-development focused candidates don't have adequate support in the state," Oesterle said. "We have big issues that are in front of us. We have to raise incomes. We have to build, retain and attract talented people, and we need entrepreneurial growth. There are a bunch of people in office today that have to be concerned about challenges from extreme elements in the party."
The announcement comes on the heels of a political renaissance from Oesterle—an outspoken Daniels ally and recent critic of Pence for his positions on gay rights—and in advance of what's sure to be an intense legislative battle between advocates of LGBT rights and religious freedom.
Oesterle said the group, which he says will be backed by Daniels supporters and up-and-coming Republicans, will primarily target candidates in legislative races first. There's also the possibility it could step into mayor's races.
At this point, the group is not poised to try to find a primary challenger for Pence.
"That is not a focus of this group," Oesterle said. "His actions over the course of the next two months are going to be highly critical to answering that question. This is an important session for him. Last session, obviously, didn't go well."
Indiana political analyst Brian Howey said the timing of Oesterle's announcement makes sense since a legislative debate looms over whether sexual orientation and gender identity will make it into the state civil rights code.
Some social conservatives have already promised political retribution to Republicans who vote for a measure that would strengthen LGBT rights.
This may be a way to combat that, said Howey, who runs the Howey Politics Indiana site.
"That can really make a difference," Howey said. "He probably knows some [legislators] who might be inclined to vote for that expansion but they may have a primary challenge."
There are two prime examples in recent Indiana history of stunning primary upsets of state legislative leadership by more conservative factions of the party, Howey said.
Sen. Brent Waltz, R-Greenwood, an anti-abortion legislator who endorsed Indiana's proposed constitutional ban on gay marriage, in 2004 defeated then-Sen. Larry Borst, the longtime chairman of the Finance Committee, in a Republican primary.
And, in 2006, then-Senate President Pro Tem Robert Garton lost to Greg Walker, who got a boost from Indiana Right to Life after Garton blocked a floor vote on a controversial abortion measure.
But besides those upsets, Oesterle said Indiana's Republican Party was going strong until the Daniels "truce" on social issues was "violated."
Pence's decision last spring to champion the Religious Freedom Restoration Act didn't help.
Now the party has to reform, Oesterle said.
"The brilliant strategy was blown up by some irresponsible people," he said. "It was working. All the controversy did was increase the chances of us losing statewide races, and that's just sad."
Please enable JavaScript to view this content.