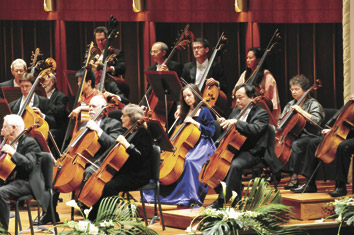 The Indianapolis Symphony Orchestra on Monday afternoon reported its third straight annual budget surplus, thanks to a rise in ticket sales and steady fundraising.
The ISO said it took in $23.8 million in operating revenue during the 2014-2015 fiscal year, which ended Aug. 31, while realizing expenses of $22.9 million. The budget surplus of $900,000 topped last year's $266,000 and $236,000 in the 2012-13 fiscal year.
The ISO operated in the red for five consecutive years before reporting the 2012-13 surplus.
Operating revenue in the latest fiscal year was up about $300,000 from the previous year while expenses fell 1 percent.
The not-for-profit symphony funds its operation with a combination of ticket sales, charitable donations and income from its endowment.
Income from ticket sales increased 8 percent over the previous year thanks to a 24 percent jump in the number of ticket subscriptions.
Student ticket sales rose, with a total of 9,014 tickets sold in 2014-15, a 33 percent increase over the previous year. Summer concert series Marsh Symphony on the Prairie saw a 7 percent rise in ticket sales
Fundraising slipped slightly, to $9.25 million, down from $9.73 million last year and a record $10.67 million in fiscal 2012-13.
The ISO drew $5.39 million from the Indiana Symphony Orchestra Foundation, consisting of $3.93 million for operations and $1.46 million for pension contributions. The overall draw rate from the endowment was was 6.2 percent, the same as last year's rate. The endowment's balance as of Aug. 31 was $91.2 million, down slightly from $92.5 million a year ago.
"The ISO is delighted to report another strong season in artistic accomplishment, audience growth, fundraising and strong financial stewardship," ISO CEO Gary Ginstling said in written remarks. "We are encouraged that more people are experiencing the ISO in performance, and that the community's support remains so strong."
 
Please enable JavaScript to view this content.