Employers with fewer than six workers are exempt from some of Indiana's civil rights laws and Senate Bill 100 would excuse firms with fewer than four workers from serving same-sex weddings. Should tiny employers be required to observe civil rights laws?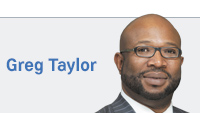 Parenting, like policymaking, rarely occurs in a vacuum. We are tested by experiences and judgments that often are not black and white, and decisions we make frequently require a tradeoff. But when it comes to something as important as teaching our children right from wrong, that ambiguity fades. As written, Senate Republicans' proposal allows some wedding-related businesses to deny service to LGBT Hoosiers. After the RFRA fiasco, we must send a clear message that our state does not tolerate inequality.
To that end, the trade off Senate Republicans concocted, one that permits just a little bit of discrimination, won't cut it.
First, a primer. Indiana's civil rights statutes protect Hoosiers from discrimination in three areas: employment, housing and public accommodation. The statutes safeguard Hoosiers from being fired, evicted or denied service solely as a result of their age, nation of origin, color, race, sex, religion or disability.
Current law exempts businesses with six employees or fewer from only the employment portion of Indiana's civil rights statutes. In doing so, lawmakers acknowledged a delicate tradeoff. Small businesses power the Hoosier economy, legislators reasoned, and the threat of costly legal action might prevent entrepreneurs from taking risks. Under the current protections, businesses are not permitted to deny service because of gender, religion or any other protected class.
The same tradeoff is far murkier in Senate Republicans' bill. The draft legislation allows small businesses with any connection to wedding-related events and with four or fewer employees to refuse Hoosiers on the basis of sexual orientation or gender identity.
Senate Republicans will argue they permitted discrimination to ensure religious liberty. First, the right to practice religion freely is an absolute, a bedrock of our democracy. It is protected by the U.S. Constitution and more vigorously by the Indiana Constitution. Verbatim: "No law shall, in any case whatever, control the free exercise and enjoyment of religious opinions or interfere with the rights of conscience."
Beyond statute, if an individual feels that complying with current civil rights statutes challenges a deeply held religious belief, avenues exists to seek legal remedy.
With religious freedoms forcefully protected and legal recourse available, Republicans' argument to permit discrimination looks tenuous. So why not draft legislation that extends civil rights protections to LGBT Hoosiers in the simplest, strongest terms?
After the ugliness and embarrassment borne of RFRA, Indiana desperately needs to broadcast that Hoosiers do not tolerate discrimination. Our economy and our future depend on it. Our state, sadly, has not led on issues of tolerance and equality. We are one of just five states that do not expressly forbid hate crimes and as recently as 2014, Republicans were attempting to ban same-sex marriage.
So at a time when great clarity of purpose is required, Senate Republicans failed to absorb the painful lessons RFRA imparted.
This is our teachable moment. For all its divisiveness, RFRA has presented Indiana with an enormous opportunity. We can, as Republicans have chosen to do, sit squarely on the fence between what is expedient and what is politically convenient, desperate to make this go away. Or we can do what's right and show Hoosiers we too believe there is no room for discrimination in the Hoosier state.•
__________
Taylor represents Senate District 33 in Indianapolis. He is a Democrat. Send comments on this column to [email protected].
Please enable JavaScript to view this content.