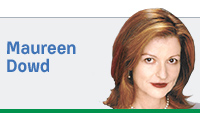 With the intense interest in the thrill-a-minute, through-the-looking-glass 2016 race, fueled by anger at maladjusted Washington and anxiety after the Paris attacks, I decided to let my Republican brother offer his red-state soliloquy, hoping. He-e-e-ere's Kevin:
Liberals and the mainstream media may regard the myriad Republican presidential candidates as a "house of crazies," but I see an embarrassment of riches. It is the ultimate irony that the Republican field blows the Democrats away on one of their favorite topics—diversity.
Here's how I see the Republican contest and the Democratic coronation:
Donald Trump: With all his bombast and incivility, Trump has joyfully debunked political correctness for the fraud that it is. With his talent for making debate ratings soar, he has allowed all the other candidates to be seen and heard at celestial levels unreachable without him.
Ben Carson: Not since Eisenhower has a complete novice politician been so legitimate a contender. He forces African-Americans to choose between him and the wife of the man Toni Morrison called our "first black president."
Marco Rubio: Young, whip-smart and self-assured, he has an encyclopedic knowledge of foreign affairs and is a stunning contrast to Hillary Clinton both in generation and vision. Wait until he starts delivering speeches in Spanish.
Ted Cruz: The Hispanic heir-apparent to Barry Goldwater had the best moment in the third debate, calling out an obscure cable TV host looking for his 10 minutes of fame.
Jeb Bush: I like the Bushes, all of them. Jeb would have been the perfect Republican candidate from 1988 to 2000. In this age of instant gratification, his wonkish grasp of policy does not move the needle.
Chris Christie: Trump with better manners.
Contrast our informed candidates with the Democratic lineup of Queen Cersei, the socialist Doc Brown from "Back to the Future" and the lead singer of O'Malley's March.
Clinton: She's seeking the highest office in the land even though 60 percent of the country does not trust her and her emails are under FBI review for potential national security breaches.
Bernie Sanders: His proposals for free health care, free college and expanded Social Security have a price tag of $18 trillion with no way to pay for it. Not even a candidate for budget director.
O'Malley: Does anyone know his reason for running?
The next president will have to deal with a severely weakened hand, at home and abroad. The bill for "leading from behind" has come due. In dealing with foes, Clinton, in a 2014 speech at Georgetown University, called for "trying to understand, and insofar as is psychologically possible, empathize with their perspective."
Our enemies do not fear us, and authority at home is being questioned by a disgraceful campaign since Ferguson to undermine the police.
I am the son of a policeman, and a police officer is killed in the line of duty every 60 hours. My dad told me that any job where you can legally carry a gun will occasionally draw the wrong type of person. The next time you see a police officer, say thank you.
So, ask yourself: Do you want a president who refuses to name the enemy? Whom do you want to appoint the next three Supreme Court justices? And who will protect the homeland and honor the Constitution? Then pray that you got it right.•
_________
Dowd is a New York Times columnist. Send comments to ibjedit@ibj.com.
Please enable JavaScript to view this content.