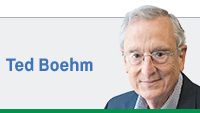 The bipartisan proposal to raise the salaries of city-county councilors and the mayor was certainly reasonable. (The mayoral raise has since been withdrawn.)
Viewed as a percentage increase over current salaries, the proposal might have seemed excessive at first blush, but the pay for these offices was last raised in 2002 and the new figures don't amount to anything more than long-overdue cost-of-living adjustments.
This proposal was also justified by comparison to salaries in other municipalities. It would still have left the compensation of the mayor of Indiana's largest city below that of his counterparts in Gary and Fort Wayne and approximately the same as the mayors of Carmel and Fishers, both much smaller cities in the same metropolitan area.
A legislative or senior executive pay raise has a negligible effect on the overall municipal or state budget. But council members are understandably chronically reluctant to increase their own salaries, and end up unable to take action on this issue even though most agree it should be done.
Infrequent large increases in compensation have several undesirable effects. The failure to revisit Marion County salaries for 14 years has produced the same anomaly that characterizes the salary structure of state government: The chief executive makes less than many of the public employees he or she appoints.
Failure over many years to revisit compensation of any employer creates another more serious problem akin to boiling a frog by gradually turning up the heat. The most recent 14 years include the post-Great Recession years that have seen interest rates at historic lows. Despite the resulting relatively low inflation, the salaries of the mayor and council members now have only 75 percent of their purchasing power when the amounts were fixed in 2002. In less-favorable periods of that length—for example 1970 to 1984—inflation slashed a fixed salary to 30 percent of its initial power.
If the council agrees that the current compensation is inadequate, it should consider avoiding the need to make occasional dramatic increases by adopting some version of the plan the General Assembly adopted in 2008 to address a long-standing freeze on judicial pay. At the same time a catch-up pay increase was implemented, the law permitted future increases, intended to approximate cost-of-living adjustments, without further legislation.
This allowed all judges in the state, and all considering a judicial career, to plan their financial future with some confidence that they would not face the potential destruction of their earning power over time.
Compensation of executive-level officials and legislators should not be an incentive to seek public office, but neither should it be so low that only the independently wealthy or those without families to educate and support can afford to serve. For offices that are, or should be, term-limited, the economic hardship from reduced pay is of short duration relative to a person's career, and therefore less of a disincentive to serve.
Arguably, the mayor and council are less-compelling candidates for automated raises because, unlike judges, neither position is expected to be held to retirement age. But the public is not well served by underpaying senior officials in any branch of government. In addition to catching up for past omissions, the council should consider adopting one of several available means of authorizing future salary adjustments without the need for council action, taking the issue off the table for future councils unless they determine a change is needed.•
__________
Boehm is a retired Indiana Supreme Court justice who previously held senior corporate legal positions and helped launch amateur sports initiatives in Indianapolis. Send comments on this column to ibjedit@ibj.com.
Please enable JavaScript to view this content.