Jim Burkhart, the ousted CEO of American Senior Communities LLC, could wind up back in the nursing home business—running dozens of the nursing homes his former employer currently operates.

Over the three years leading up to the Sept. 15 FBI raid on Burkhart's Carmel home and his firing three days later, Burkhart negotiated a series of agreements that as early as 2017 could transfer to him the licenses for 63 American Senior-run nursing homes.

Those agreements, called put options, were negotiated by Burkhart—personally, not as CEO of American Senior—with the Health & Hospital Corporation of Marion County. HHC owns the nursing homes American Senior operates and pays American Senior to manage them.

Gutwein
HHC officials said the put options are "a form of insurance" that allows them to sell their nursing homes for prearranged terms if they decide to get out of the nursing home business. One scenario that could cause HHC to pull the trigger would be the end of a Medicaid program that draws down extra federal funding for nursing homes owned by county hospitals.

Matt Gutwein, CEO of Health & Hospital Corp., said the federal investigation into Burkhart and American Senior, whose offices were also raided by the FBI, has added complications to the put agreements.

Burkhart
"We're going to have to figure out what we're going to do," Gutwein said, although he provided no specifics. "There are a lot of unknowns about Jim Burkhart right now."

Sources with knowledge of the FBI's inquiries have said it is focused on whether Burkhart or anyone else at American Senior received kickbacks from vendors that provided products and services to the nursing homes American Senior operates. It is not clear if the FBI is also looking into the put agreements.

Burkhart, 51, had been CEO of American Senior since 2001, helping to build it from a money-losing, midsize nursing home company into the state's dominant nursing home operator. Its nursing homes and assisted-living facilities generated revenue last year of $645 million.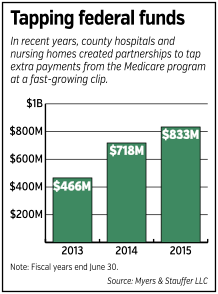 HHC paid Burkhart's companies, which operate under the name Crusader Healthcare Services, $4 million to sign put options covering 63 nursing homes. The Jackson family, the majority owner of American Senior, holds puts on eight nursing homes, and the rest of HHC's 78 facilities have no put options.

If HHC exercised its put options, Burkhart could receive even more money. One agreement, which covers 34 nursing homes, would pay $16.5 million to Burkhart and a business partner, real estate investor Robert D. New.

New is a partner with Burkhart on two of the agreements, which cover 45 nursing homes. Two other agreements, covering 18 nursing homes, are held solely by Burkhart.

None of the agreements require Crusader to pay anything to acquire ownership of the facilities. In fact, the contracts promise to give Crusader all accounts receivable as well as title to the nursing homes' physical assets—but not its real estate.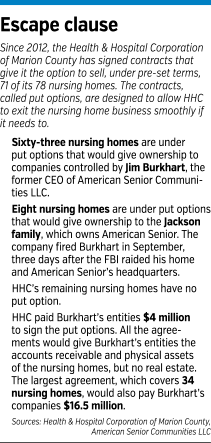 The terms were made so attractive to Crusader because the most likely scenario under which HHC would transfer ownership would be if the nursing homes became ineligible for extra federal funding that is now enriching the entire nursing home industry in Indiana. Without that extra funding, some homes might close or deteriorate in quality, disrupting care for their elderly residents.

The put option contracts are publicly available because HHC, which also operates Eskenazi Health hospital, is supported by the taxpayers of Marion County.

HHC cannot exercise its nursing home put options until September 2017, at the earliest. And right now, HHC has no plans to do so.

"Under the circumstances as they exist today, the prospect that we would exercise those puts is extremely low," Gutwein said.

The put options require that American Senior remain manager of the nursing homes at the time ownership transfers from HHC to Crusader. But it appears that Crusader could replace American Senior as manager after that point.

A spokeswoman for American Senior declined to discuss whether the company or its owners worried about being replaced as manager if Burkhart's Crusader became owner of the nursing homes.

"We believe it is unwise to address speculative questions; subsequently we have no comment," American Senior spokeswoman Sherri Davies wrote in an email.

Larry Mackey, an attorney for Burkhart, declined to make Burkart available for comment. But he said Burkhart signed the put agreements because the Jackson family no longer wanted to be part of such agreements on most of the HHC nursing homes.

"For Jim Burkhart the motivation was genuine," Mackey wrote in an email. "As an owner of facilities, he could ensure that resident care would not suffer if HHC transitioned out of the business and he would continue his growth in an industry he cares deeply about."

Rationale for deals

Gutwein said the puts were intended primarily to encourage Burkhart and American Senior to keep operating the nursing homes well—both from quality and financial standpoints.

If they didn't, HHC could unload a struggling asset onto their shoulders.

HHC first negotiated put agreements in 2003—when it acquired its first nursing homes from the Jackson family. At that time, the Jackson family itself held the put options on all 13 of the nursing homes HHC bought.

That purchase was the first time an Indiana county-owned hospital acquired nursing homes completely removed from its main campuses for the purpose of leveraging extra payments available to government-owned health care facilities.

This arrangement generates extra money because of a wrinkle in the payment policies of the federal/state Medicaid program. Medicaid rules allow governmental entities—like county-owned hospitals—to pay their state Medicaid agencies extra fees that will trigger higher federal matching funds, up to the maximum payments.

Because the Indiana Medicaid program pays nursing homes at rates well below the maximum federal rate, called the "upper payment limit," the difference is quite substantial—$71.54 per patient per day, according to an analysis by the accounting firm Myers & Stauffer LLC.

This program, called the UPL program because of the term "upper payment limit," has been extremely lucrative for both HHC and American Senior. From 2003 through 2014, HHC passed on more than $452 million to American Senior and related companies owned by the Jacksons in the form of rental and lease payments, as well as management fees.

And HHC's cut of the extra federal money totaled $667 million from 2008 to 2014.

The arrangement's success has attracted a crowd. Around Indiana, 413 nursing homes now are technically owned by county hospitals, yet in most cases managed by the companies that formerly owned them.

That arrangement cost the federal government more than $833 million in the fiscal year ended June 30—with nearly $555 million of that flowing to county hospitals and nursing homes, in a roughly 50-50 split.

It's not clear what percentage of the UPL money that HHC receives flows to American Senior. But HHC's management fees to American Senior are larger because the nursing homes' overall revenue is larger. HHC also pays above-market lease payments to the owners of the nursing homes' real estate.

For some facilities, that real estate is owned by the Jackson family.

It was the sale of some of that real estate in 2012 that created the opportunity for the put options involving Burkhart, Gutwein said. The Jackson family sold the real estate of 17 of its nursing homes to Maryland-based Omega Healthcare, a real estate investment trust, for $203 million.

Messages left for Omega officials were not returned. But Dan Sellers, HHC's chief financial officer, said Omega and the other landlords that held the real estate on HHC's nursing homes were interested in put agreements to ensure that proven managers would continue to operate the nursing homes—and keep paying the handsome rents—even if HHC sold the nursing homes.

Omega "had an interest in having a management company that they had a lot of comfort in," Sellers said.

Gutwein and Sellers said they approached Burkhart—in his role as CEO of American Senior—about negotiating additional put options with American Senior. But, according to Gutwein, Burkhart said American Senior didn't want to add put options and wanted to get out of many of its existing ones.

"That is when Burkhart stepped in," Gutwein said.

Mackey, the attorney for Burkhart, said Burkhart did so because the Jackson family wanted out and because the other parties trusted him to keep the nursing homes operating well.

"The timing of the Jackson decision presented a problem," Mackey wrote in an email. He added, "Jim Burkhart was the right person to turn to and HHC, ASC, the Jackson family and other interested parties all agreed. "

Windfall in jeopardy?

The negotiation of the put options was occurring at the same time the UPL program was exploding in Indiana. In 2011, Riverview Health and Witham Health Services became the second and third county hospitals to acquire nursing homes. Another two dozen quickly followed suit.

That growth sparked additional scrutiny of the program by the federal Medicare program in 2013, and many hospital and nursing home executives have said they expected the program to end or be substantially altered at some point.

"We understand in the health care business that there is constant evolution and change," said Jack Horner, CEO of Major Hospital in Shelbyville, which owns 39 nursing homes.

HHC's Gutwein said he also expects health care financing to change and that the potential end of the UPL program was one risk factor—though not the biggest—that caused HHC to negotiate put options in the first place. But he denied HHC officials negotiated additional put options, beginning in 2012, because they feared the UPL program would end.

"We wanted [American Senior] and Jim [Burkhart] to continue to be very, very good managers," Gutwein said. "In the event that they weren't good managers, we could always exercise the put and they would bear the risk of that business doing poorly."

Indiana hospital and nursing home executives are worried the state Medicaid program will shift how it pays for nursing home care into a "managed care" arrangement, which could have the side effect of killing the UPL program, according to Mike Grubbs, an attorney at Barnes & Thornburg LLP who helped many county hospitals negotiate their partnerships with nursing homes.

Managed care is when the state hires private insurance companies to manage the medical care of Medicaid beneficiaries. To encourage cost savings, private insurers typically pay health care providers a set amount per month for each patient they enroll, rather than paying "fee-for-service" for each bit of care the patient receives.

If applied in a broad way, such a managed care program would kill the UPL program; it generates federal matching funds only for per-day payments the state Medicaid program makes for each Medicaid patient living at a nursing home.

However, that's not a foregone conclusion, Grubbs noted. He said many states have created managed care programs that pay a set fee for insurers to help Medicaid patients avoid a nursing home stay or keep those stays shorter—and yet still pay nursing homes a per-day rate for however long patients stay.

"Managed care is coming, but there are lots of kinds of managed care," Grubbs said. "The long-term-care companies fear that it's going to come in a way that does away with fee-for-service. And that's their biggest fear because of the UPL payment."•