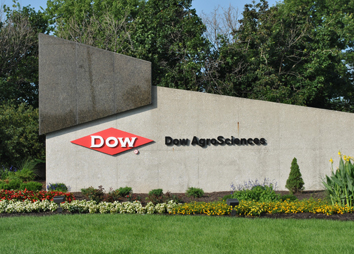 While the combination of Dow Chemical Co. and DuPont Co. is a true "merger of equals," when it comes to the future of the Indianapolis-based ag unit of Dow, the deal puts DuPont squarely in the driver's seat.
That throws into significant doubt what will happen to the 1,500 people who work at the Dow AgroSciences LLC headquarters on the northwest side of Indianapolis, especially since Dow and DuPont executives said they plan to achieve $1.3 billion in cost savings from merging their respective ag units.
"We will gain significant synergies through seed production cost efficiencies by maximizing the R&D programs of the two companies and through the optimization of our production and supply chains," DuPont CEO Ed Breen, who will become CEO of the combined DowDuPont, told investors Friday morning.
But one former Dow Agro executive said that if Dow Agro was going to merge with another company, the DuPont deal is the best one it could have hoped for, and will "absolutely" leave a significant operation in Indianapolis for years to come.
"The merger will have a limited impact on activity in either company's location or sites," since the firms' products and research strengths are complementary and don't overlap significantly,  said Ry Wagner, who was the leader of global ventures and new technology at Dow Agro from 2009 to 2013.
The deal calls for Michigan-based Dow Chemical and Delaware-based DuPont to merge into one company by the second half of 2016. Then by 2018 the companies will split into three independent publicly traded companies—focused on agriculture, chemicals and materials, and specialty products.
Dow officials were mum Friday on how the deal would affect the Indianapolis operation or where the headquarters of the merged ag business would be.
"Decisions about company leadership, name, financial structure, etc. will be made at a later time," said Rachelle Schikorra, a spokeswoman for Dow Chemical.
Breen will lead the integration and spin-off of the ag and specialty businesses, while Dow Chemical  CEO Andrew Liveris, who will be executive chairman of DowDuPont, will lead the integration and spin-out of the chemicals-and-materials business.
During a conference call Friday morning, Liveris said that business would be the future Dow company while "the ag one," he added, "will become the future DuPont company."
DuPont's ag business, much of which operates under the Pioneer brand, is larger than Dow Agro. DuPont's ag business has more than $11 billion in sales last year, while Dow Agro has about $7 billion per year.
DuPont's ag business employs more than 12,000 workers, while Dow's employs about 9,000.
Breen, on a conference call with investors, noted that about $300 million will be cut from research and development operations, with most of that occurring in the agriculture business. That could be bad news for Indianapolis, since a significant chunk of the workforce here focuses on R&D.
But Breen said he and Liveris have created cost-cutting plans that should spare the most basic R&D, as well as sales teams.
"We did not take out anything that could help these companies for growth in the future," Breen said. He added, "When I do cost cuts over the years, I always am very careful not to over-affect the person that is selling the product to the customer and the people inventing and making the product. And everything else in the middle is a little more fair game. And I think that's what we were able to attack here and come up with nice synergies. But again, not effecting the growth engine."
Wagner, the former Dow Agro R&D leader, said there may be redundancies in the field staffs of the two companies that run trials on new products or that handle the regulatory issues involved in bringing new products to market.
But he said the two companies have complementary strengths that are not duplicative. DuPont's Pioneer unit is strong in the genetics of crop plants' tissues and seeds, known as germplasms, while Dow Agro is strong in the genetically engineered traits that can be implanted in seeds.
DuPont has previously licensed some of Dow Agro's seed traits to put into its seeds and sell under the Pioneer brand.
Also, DuPont has a strong presence in crop protection products, Wagner said, but Dow Agro has been a bit stronger recently at developing new crop protection products, such as its Enlist herbicide that started rolling out this year.
"It's clear there are some redundancies, but I don't think they are as large as they could be if two other companies were merging," said Wagner, who is now CEO of the ag technology company Agrinos in Davis, California.
Wagner added that the agriculture business is shifting so that having a strong portfolio in all three areas—seeds, seed traits and crop protection products—is more important than ever, and should allow the combined DowDuPont ag unit to gain market share over other companies.
Breen, the DuPont CEO, had the same idea.
"Simply put, we are creating the world's leading agriculture company," he told investors. "By bringing together DuPont's unrivaled market access and industry-leading germplasm and breeding capabilities, and Dow's strengths in traits in crop protection, we will have the most complete portfolio of any ag company."
Please enable JavaScript to view this content.