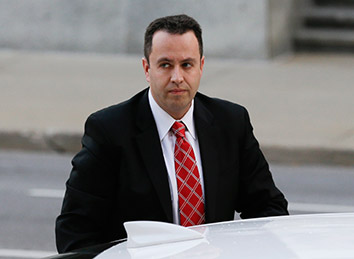 A judge in November sentenced former Subway pitchman Jared Fogle to 15 years and eight months in federal prison for trading in child pornography and having sex with underage prostitutes.
U.S. District Judge Tanya Walton Pratt sentenced Fogle after he pleaded guilty to one count each of traveling to engage in illicit sexual conduct with a minor and distribution and receipt of child pornography. Pratt also ordered him to pay a $175,000 fine and required him to serve a lifetime of supervised release after his sentence.
Fogle agreed to the plea deal in August after authorities raided his Zionsville home a month earlier.
The 38-year-old Fogle admitted paying for sex with girls as young as 16 and receiving child pornography produced by Russell Taylor, the former director of The Jared Foundation, a not-for-profit Fogle founded to raise awareness and money to fight childhood obesity.
Authorities said Taylor secretly filmed 12 minors as they were nude, changing clothes, or engaged in other activities using hidden cameras in his Indianapolis-area residences to produce child pornography. Taylor has agreed to plead guilty to child exploitation and child pornography charges.
Taylor this month received a 27-year prison sentence.
John Bradford, a professor at the University of Ottawa in Canada, testified by phone that he analyzed Fogle on Aug. 17, two days before Fogle agreed to his plea deal, and concluded Fogle suffers from hypersexuality, mild pedophilia, and alcohol abuse and dependency.
Before Walton handed down her sentence, Fogle addressed the court, apologizing for the harm he did to his 14 victims.
"I so regret that I let so many of you down," he told the court.
—Scott Olson
Please enable JavaScript to view this content.