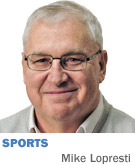 In many ways, when it came to Indiana sports, the answer was no in 2015.    
No, the Pacers would not follow their own sneaker prints to a third consecutive appearance in the NBA Eastern Conference finals. They would not even show up in the playoffs. Not with an injured Paul George playing only six games and averaging 8.8 points.
No, the Colts would not be anything close to what was promised. They would not even be in the same time zone. They were supposed to be a touchdown machine. They were supposed to be an AFC heavyweight. But on a most crucial recent Sunday against the Houston Texans, they needed only 17 points to win, and that was too much to ask. From Super Bowl chatter to a 6-8 record. From seven Pro Bowlers last season to none this season—the franchise's first shutout in 18 years
No, Andrew Luck wasn't an iron man impervious to the punishment of blitzing linebackers. He could be hurt and lost.
No, Indiana University basketball was not yet ready to take the next step and soothe the anxieties and doubts of the red masses in Assembly Hall. Not losing its last three games at home to close the 2014-2015 season, or being one and done in the NCAA Tournament.
No, Purdue football had not yet found the light at the end of the tunnel. The Boilermakers are still in a cave, after a 2-10 season.
No, Notre Dame would not wangle its way into the college football playoffs. The two Irish defeats came down to the final seconds at Clemson and Stanford, and you could say they were two plays away from going 12-0. But they also scored in the final 12 seconds to escape Virginia, so you could say they were one play away from going 9-3.
No, there were not enough adjectives to describe the angst of local organizers, when the Religious Freedom Restoration Act firestorm threatened to burn down the Final Four.
Then again, in some ways, the answer was yes in 2015. 
Yes, Larry Bird had a plan to remake, revitalize and resuscitate his basketball team, and it wasn't with new Pacemates. Go smaller and play faster. By mid-December, the Pacers were back fighting for second place in the Eastern Conference. Yes, George had fully healed, and some nights turned into Reggie Miller.
Yes, there is life after 40 in the NFL. At least in Indianapolis. As bad as the season was, where would the Colts have been without Matt Hasselbeck and Adam Vinatieri?
Yes, they still play college basketball in Indiana. A year after the entire state was shut out of the 2014 NCAA Tournament, five schools made it in 2015. All five—Butler, Indiana, Notre Dame, Purdue and Valparaiso—were tough outs. Their five evictions came by a total of 14 points.
Yes, the Indiana Hoosiers could outscore just enough teams to go 6-6 and earn a New Era Pinstripe Bowl bid in Yankee Stadium against Duke. So, two basketball schools played a football game in a baseball stadium. What wasn't to like?
Yes, the Carmel girls' swimming team still was in a pool by itself. The Greyhounds scored 276 more points than second place, accounted for 13 of the 15 meet records, and won their 29th consecutive state championship to match the longest high school title streak in U.S. history, any sport and either gender. No reason to think they can't go for an unprecedented 30. It's dolphins against girls out there right now.
Yes, there would be a scintillating display of offense in Lucas Oil Stadium. Not by the Colts, of course. Fort Wayne Snider and New Palestine in the 5A championship game. There were four touchdowns in the final 262 seconds, and Snider won 64-61. That was more combined points than three of the four boys' state basketball championship games in March.   
Yes, they could actually run the Indianapolis 500 without Jim Nabors performing "Back Home Again in Indiana." Straight No Chaser sang the song, and Juan Pablo Montoya won the race after 37 lead changes, five in the last 15 laps.  
It was the year of Deflategate, which got the nation talking. And talking. Also the fake punt against New England, which got the nation laughing. It was Marian taking the NAIA national football championship, and two other close calls: the Fever one game short of winning the WNBA, and the Indians one game short of winning the International League.
It was saying goodbye to Mel Daniels and Lauren Hill, and hello to IU's Kyle Schwarber as one of the rookie faces of the suddenly menacing Chicago Cubs. It was Jeff Gordon's final Brickyard 400, and wondering if Chuck Pagano and Tom Crean could keep their jobs. And Indianapolis once again being Mike Krzyzewski's kind of town, since three of his five Duke national championships have now come here.
There were lots of answers in 2015, but by year's end, one question most of all, and it would require more than a yes or a no. Just what exactly happened to the team that was going to the Super Bowl?•
__________
Lopresti is a lifelong resident of Richmond and a graduate of Ball State University. He was a columnist for USA Today and Gannett newspapers for 31 years; he covered 34 Final Fours, 30 Super Bowls, 32 World Series and 16 Olympics. His column appears weekly. He can be reached at mlopresti@ibj.com.
Please enable JavaScript to view this content.