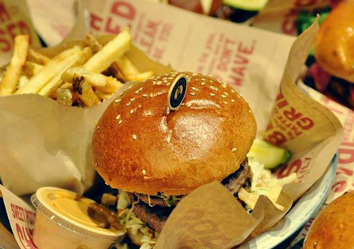 The parent of Bagger Dave's Burger Tavern has closed all five of the restaurant chain's Indianapolis-area locations, the company announced Monday.
Southfield, Michigan-based Diversified Restaurant Holdings Inc. said it shut down eight of its 26 Bagger Dave's restaurants in all, including seven in Indiana and one in Detroit. The company said the closed restaurants were "underperforming."
The closing included restaurants in Indianapolis, Carmel, Fishers, Avon and Greenwood.
Bagger Dave's entered the local market in December 2012 with its Indianapolis restaurant at 8840 N. Michigan Road and continued to add suburban locations.
DRH also closed Bagger Dave's in Crown Point and Schererville, leaving Fort Wayne with the state's only remaining location.
Also staying open are 17 Bagger Dave's in Michigan and one in Centerville, Ohio.
DRH said the closed restaurants generated $5.5 million in revenue in the first nine months of 2015, but lost $600,000. The remaining 18 Bagger Dave's generated $14.1 million in revenue and earned $700,000, it said.
The company said it would realize $9 million to $10 million in non-cash charges related to asset impairment and lease obligations. Cash severance charges would cost it another $200,000 to $300,000.
The typical Bagger Dave's is about 4,500 square feet and features table service, outdoor patios and a full bar. Each restaurant typically has about 100 full-time and part-time employees and has seating for more than 150 patrons.
Besides creating and operating Bagger Dave's, DRH is the largest franchisee for Buffalo Wild Wings, with 62 locations in Indiana, Illinois, Michigan, Missouri and Florida.
"DRH is committed to taking all appropriate and necessary actions to enhance value for all shareholders," CEO Michael Ansley said in a written statement. "We have therefore chosen to optimize our portfolio and improve overall profitability by closing eight underperforming Bagger Dave restaurants. This will allow us to focus our attention on more profitable restaurants."
Earlier this year, DRH made a $54 million acquisition of 18 Buffalo Wild Wings restaurants in the St. Louis area.
DRH shares fell 3.6 percent Monday afternoon, to $2.99 per share.
Please enable JavaScript to view this content.