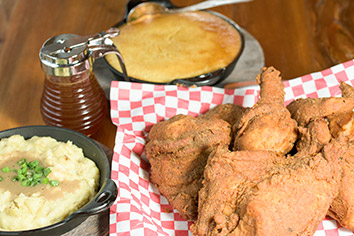 The Eagle Food & Beer Hall, a Cincinnati operation specializing in fried chicken, has opened its first out-of-town spot here in Indianapolis—at the former site of Front Page Sports Bar & Grill—and I, for one, am not complaining.
Sure, central Indiana has its signature fried chicken places—in my early days here, I'd always take out-of-town family to Hollyhock Hill, and a former workplace made a pilgrimage every year to Grey Brothers Cafeteria, to name two. But neither of those distinguished poultry purveyors is parked downtown. (Yes, we have Maxine's Chicken and Waffles, but that doesn't have a lively bar attached.)
And so I welcome the arrival of The Eagle (310 E. Massachusetts Ave., 929-1799), not only because of my periodic craving for quality fried chicken, but because it offers another option rather than a repeat of fare available elsewhere on the avenue. It's from the creators of Bakersfield, the taco bar next door; the atmosphere of The Eagle is similarly boisterous.
We had no problem with the communal tables, but I know that's not everyone's speed. Still, given the volume of the music and the loud bar chatter, I wasn't privy to the conversations of the neighboring couple. Just know going in that you could be getting semi-cozy with strangers, at least while The Eagle is crowded with those seeking the new.
Let's get to the main event. The free-range Amish birds from Ohio Farms can be ordered as 1/4-white or 1/4-dark ($6), half ($9) or whole ($18). The batter is crispy but not heavy, the crust peppered in an attention-getting-but-not-ostentatious way, and the breasts (my chicken of choice) meaty, firm-yet-moist, and altogether pleasing—especially when dabbed with a bit of hot pepper honey sauce.
I say "dabbed" deliberately. I tend to sample a sauce before applying it to a chef's creation. Having the sauce delivered in a syrup pourer is misleading, even when accompanied by a waiter warning. One taste made clear that caution was required—and a bit of time to cleanse my palate. What stung so strongly straight-up, though, made the chicken even more memorable.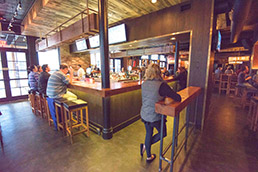 Eagle Food & Beer Hall is the first outpost for the Cincinnati fried chicken specialist. (IBJ photo/Eric Learned)
The sides are sharable (and, when you order too much, take-home-able), encouraging family-style sharing. We dug into cheesy, dense White Cheddar Grits ($4), Spoonbread ($5) served in a cast-iron skillet with maple butter, Mac & Cheese—with five variations of the latter and a breadcrumb topping ($5)—and Mashed Potatoes ($5). With all of that, we probably could have done without the Southern Greens & Artichoke Dip ($6) appetizer, although I say that in retrospect after a filling meal. We had no complaints while scooping it up with hot chips before the chicken arrived.
As the outdoor seating opens and dining options expand to lunch (for now, it opens its doors to diners at 4 p.m.), The Eagle should prove a comfortable Mass Ave nesting spot. I'm glad it landed here.•
Please enable JavaScript to view this content.