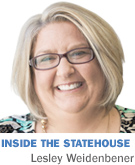 Indiana lawmakers returning to the Statehouse on Jan. 5 for their 2016 session will face high-profile issues including gay rights and transportation funding that could split them along not only party lines but often rural and urban boundaries as well.
But at least one proposal is bringing together a coalition that crosses philosophical and geographical boundaries. Senate Bill 15 aims to address an important issue but one that might be seen as marginal in an explosive session that's taking place in a major election year.
Access to good food.
It's a simple concept. All Hoosiers should be able to obtain fresh food in their neighborhoods or communities. Those who live in urban areas should be able to walk or take a relatively short bus ride to a market or grocer that sells vegetables, fruits and meats. And those who reside in rural areas should have access within a relatively short drive to the same.
But that's not currently true in many areas of Indiana's cities and its countryside.
Among major cities, Indianapolis has the lowest percentage of people who can walk to a grocery store, according to an analysis of U.S. Department of Agriculture data by the website WalkScore.com. The site estimates that just 5 percent of people can walk to a store that sells produce. And the USDA data shows there are actually more so-called food deserts in Indiana's rural areas than in its cities.

Head
Sen. Randy Head, R-Logansport, wants to do something about that. He's proposed a grant program that provides funding for organizations or businesses that want to bring fresh food to underserved communities and neighborhoods. SB 15 would appropriate $1 million to the program and task the State Department of Health with overseeing it.
"This is not just a giveaway program," Head said. "It's about creating jobs and about making fresh food available to people who need it. We want to stimulate economic activity in neighborhoods and give people something to eat rather than just the chips and candy bars they can buy in a neighborhood convenience store."
Head has modeled his legislation after a program in Pennsylvania that, over a decade, funded 93 projects that are providing more than 400,000 people with access to healthier food. However, Pennsylvania committed $30 million to the project and private investors offered another $145 million. That's produced $1.50 in economic activity for every $1 invested, Head said.
Last session, Head proposed a similar but much more expansive and expensive grant program. But the bill died in the Appropriations Committee, which handles budgetary issues. In 2016, Head said he wants to tackle something more modest to see if he can get a program launched.
"We're trying to educate people, Republicans especially, that this is not the kind of thing where we're buying food for people, they eat, and then we buy them more," Head said. "It's offering sustainable options for businesses. We're just trying to get them off the ground."
That might mean helping an existing convenience store add coolers so it can sell produce or providing help to a grocery that wants to add a location in an underserved area.
Rep. Justin Moed, D-Indianapolis, said that's a wise way to invest. He's worked for a couple of years on food desert issues and has found that rural lawmakers are just as concerned as he is about ensuring their constituents have access to good food.
"There are lots of small towns that are experiencing this same problem. Because of population declines, it's hard to keep a large grocery store in a town. And the only thing left might be a convenience store or a Family Dollar. And they don't offer enough to be a good source of fresh food."
That could lead to larger—and more expensive—issues, including obesity, chronic disease and low productivity, Moed said. Those are problems that will cost the state more in the long run.
"It's a public health issue and we have to present it as one," Moed said. "Government is not in the business of running grocery stores, and we shouldn't be. But asking food retailers and producers what other things we can do to be able to make this market work is what government should be doing."
That's something both sides of the aisle might be able to agree on.•
__________
Lesley Weidenbener covered the Statehouse for two decades—a span that included five governors, 20 regular legislative sessions and countless campaigns—while working for three news organizations. She is now IBJ's managing editor.
Please enable JavaScript to view this content.