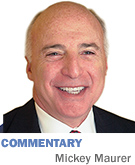 Each January I reflect on the prior year's columns. I have always been curious about the topics and the people I have written about over the course of the year. Looking back was difficult this year because, although I have exceeded the Lord's prophecy of three score and ten, some Hoosiers, including dear friends, did not. Once again, say goodbye with me to some extraordinary people.
As a child, Larry Reuben, who was Jewish and thus forbidden to swim at the Riviera Club across the street from his home, wasted no time out of law school filing suit to "excise the evil management of this institution and open this club for everyone." He won on all counts. The Riviera had to publicize its new policy of openness to all and to take in members who were qualified on an objective, transparent basis. Reuben had countless friends. I heard from many of them in response to my October column.
In May, I wrote about Alex Varaciu who ended a full life at age 96. He enlisted in the Navy flight training program six months before the Japanese attacked Pearl Harbor and earned his wings in 1943. He was just 25 when he reigned as the Navy's top World War II fighter ace. Varaciu out-foxed death many times, including twice parachuting to safety from damaged aircraft. His exploits are a part of our proud Indiana heritage.
In July, I reproduced a personalized crossword puzzle I had created for Marge Tarplee, a distinguished Indiana civic leader who spent more than 50 years as a dedicated volunteer to our city, including as the first woman to chair the 500 Festival Board. Marge served as corporate secretary of Central Newspapers Inc., the former owner of the Indianapolis Star. That puzzle also appears in my recent book, "50 Crossword Puzzles—with playful narrations."
I am still grieving the loss of Amos Brown, who, among other things, wrote a weekly column for the Indianapolis Recorder. In his obituary that appeared in that publication he was declared to be "our beacon, our voice." Often his rhetoric did not endear him to civic leaders and organizations that he felt did not fully support the African-American community. I miss our spirited exchanges. I miss Amos.
One of my first columns of 2015 was a eulogy for Bill Mays, who died on his 69th birthday just before the end of the previous year. Bill was the elder statesman of the African-American community. He filled that role with grace. We were competitors. The masthead of his newspaper, the Indianapolis Recorder, boasts "Indiana's greatest weekly newspaper." We debated that issue from time to time. Later he purchased local radio stations and vied with our broadcast properties. We congratulated each other for exiting the industry while the radio stations still commanded premium prices.
Reverend Theodore M. Hesburgh, who died in February, enjoyed 35 years as president of the University of Notre Dame. I featured Father Hesburgh in my book, "19 Stars of Indiana: Exceptional Hoosier Men." Like Forest Gump, Father Hesburgh was everywhere history was made. Among other posts, he was a delegate to the International Atomic Energy Agency and one of the six members of the U.S. Civil Rights Commission. He was instrumental in launching the first Peace Corps project, and he served on the Knight Commission on Intercollegiate Athletics with the task of cleaning up the moral mess in big time college football and basketball—on that score we need him more than ever today. He counseled four popes and six presidents and held 14 presidential appointments, dealing with the social issues of the time. But when asked to name his greatest role, Hesburgh would say without hesitation, "wherever I have been, whatever I have done, I have always in every work considered myself essentially a priest."
Thank you for reading my columns last year and for responding. I have enjoyed our dialogue. Best of luck to all of us for a healthy and prosperous 2016.•
__________
Maurer is a shareholder in IBJ Media Corp., which owns Indianapolis Business Journal. His column appears every other week. To comment on this column, send e-mail to [email protected]
 
Please enable JavaScript to view this content.