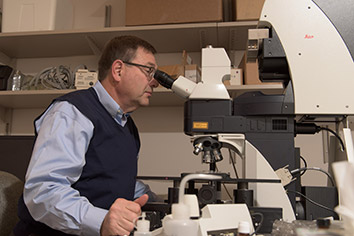 Dr. Bruce Molitoris, a professor in the Indiana School of Medicine, is hopeful that an antibiotic cocktail he invented will one day improve the lives of millions of people suffering from a grab bag of debilitating or deadly genetic ailments.
If years of testing and clinical trials pan out, patients will owe a debt of gratitude not just to Molitoris, but also to the Indiana University Research and Technology Corp., a not-for-profit formed in 1997 to dig up interesting work done by IU faculty and researchers and make it available for commercial development.
IURTC recently helped hammer out two patent license agreements with La Jolla Pharmaceutical Co., a San Diego-based biopharmaceutical firm. One gives La Jolla rights to develop next-generation derivatives of Molitoris' cocktail. The second, which includes the University of Alabama at Birmingham, allows La Jolla to use the same elements to stop defective genes from producing incomplete proteins—a cause of various diseases, including a variety of cystic fibrosis.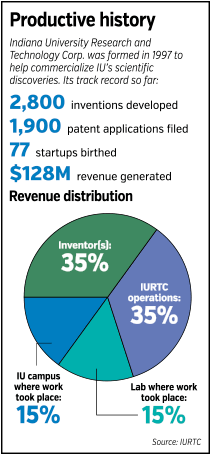 IURTC has leveraged IU discoveries to midwife more than 2,800 inventions, file about 1,900 patent applications, and create 77 startups. It's worked with Molitoris since 2006 on commercializing his work, helping to file patent applications that were granted this year.
"You always need an office like this to handle patenting, or else I think it would rarely get done," said Molitoris, a professor of medicine and integrative and cellular physiology. "It's just a hassle. We're here to advance science and medicine, but things get more difficult when it goes into fields like business and law."
The doctor gives short shrift to business because he's got his hands full elsewhere.
Molitoris' breakthrough, as is so often the case in science, happened while he searched for something else—specifically a less-toxic version of a powerful antibiotic called Gentamicin, which is used to fight exceptionally tough infections. But Gentamicin can cause kidney and inner-ear damage, so Molitoris tested the drug's four active ingredients separately to see if one killed bacteria just as effectively as the original compound. Two did, without the dangerous side effects.
And the news got even better. The ingredients, called aminoglycosides, might be useful against a raft of genetic disorders.
"If testing bears out, it has the potential to treat diseases that affect 30 million in the U.S. and 300 million worldwide," Molitoris said.
Molitoris has moved on to other research now that the university has licensed his breakthrough to La Jolla Pharmaceutical Co. (IBJ photo/Eric Learned)
To put it simply, the Gentamicin components address a specific genetic glitch that prevents the body from producing a necessary protein. This relatively straightforward deficiency is responsible for dozens of rare but dangerous genetic ailments, plus a handful of widely known ones such as hemophilia, Duchenne Muscular Dystrophy, and a form of cystic fibrosis affecting 5 percent to 7 percent of those afflicted with that disease. The therapy could give such patients normal lives by negating the disorder's ill effects.
"It's a treatment that allows them to produce the missing protein, which then functions normally and alleviates the condition," Molitoris said.
Game-changing legislation
While the doctor's research, which consumed the better part of a decade, shows potential, it could go nowhere without years of additional work to turn it into a marketable product.
The concept of universities actually shopping their researchers' discoveries around in the "real world" is a direct outgrowth of the 1980 Bayh-Dole Act. Co-sponsored by Indiana Sen. Birch Bayh and Kansas Sen. Robert Dole, it allowed universities, not-for-profit research institutions and small businesses to own and patent inventions developed under federally funded research programs.
Before Bayh-Dole, those discoveries passed into the public domain, providing little financial benefit to researchers or their schools. Even more problematic, there was no incentive to actually seek out someone to turn research into practical products.
According to the Association of University Technology Managers, fewer than 250 patents were issued annually to U.S. universities in the pre-Bayh-Dole years, and few were commercialized. But in fiscal 2014, association members reported receiving 6,363 U.S. patents, filing 23,526 U.S. patent applications, forming 914 startups, and developing 965 commercial products.
Forming IURTC was IU's way of getting a piece of the action. Similar not-for-profits operate at most research universities, including Purdue.
Universities are looking at revenue from commercialization as an increasingly important way to fund research as other sources, especially the National Institutes of Health, cut back or flatline research funding.

Kerbeshian
That enlightened self-interest helped IURTC net a nice chunk of change. Since its inception, it has brought in a cool $128 million, said Marie Kerbeshian, IURTC's vice president of technology commercialization.
Under a formula developed by IU's faculty senate, 35 percent of revenue flows to the inventors, 15 percent to their lab, 15 percent to their particular campus, and 35 percent to the university as a whole. Currently, that last 35 percent is returned to IURTC to fund operations.
"Just writing a full-blown patent application for an individual invention can top $10,000," Kerbeshian said. "And that's just to get the process started. It doesn't even account for foreign applications."
Long-term quest
Given that biomedical-related products can take a decade or more to bring to market, royalties can be a long time coming, if they arrive at all.
"Within the university technology transfer community, we recognize that this is a game of home runs," Kerbeshian said. "A lot of products don't make it to market, so you're really looking at doing a number of licenses and really only expecting a few of them to make it."
Dr. Tim Franson, chief medical officer at locally based YourEncore, said Molitoris' work might have a leg up, because the Food and Drug Administration and NIH are both interested in already-approved products that could be repurposed.
Theoretically, since the product has already been through the regulatory wringer, the road to clearing it for another use could be shorter, said Franson, whose employer connects companies with retired and veteran scientists and engineers.
While most IURTC projects don't gain commercial traction, a handful make it big. Royalties from a device used in vascular surgery have created a steady revenue stream. And in 2009, IURTC oversaw the sale of the educational software startup Angel Learning for $95 million, $24 million of which found its way into university coffers.
The bulk of the breakthroughs IURTC staffers handle come from IU's biomedical programs, said Jennifer Finefield, the organization's senior technology manager. But they're open to submissions from any part of the university. For instance, one current project is a process for folding display lights that came from Department of Apparel Merchandising and Interior Design in Bloomington.
IURTC handles 200 to 250 technology "disclosures" annually.
"We work with the researchers to evaluate their technology for patentability, marketability and commercialization," Finefield said. "We also work to identify commercial partners to take the technology forward. Because the overall goal of tech transfer is to get technology out to the people."
And also make some money for the university and relieve researchers from worrying about lawyers and contracts. Molitoris is certainly grateful for that last service.
"I don't pay any attention to that," he said. "I'm just here to try and advance the science."
Though he's still studying his breakthrough in the lab, he's completely disengaged from the work La Jolla is doing to commercialize it. Which is fine with him.
"Once it's turned over to the company, then that's kind of their bailiwick," Molitoris said. "We're not involved with the company in any way. We're continuing to do research with these compounds, and we have additional ideas. And we'll hopefully be getting a grant to test those ideas."•
Please enable JavaScript to view this content.