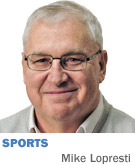 Remember the famous sign on President Truman's desk? "The buck stops here."

Harry Truman never owned an NFL team.

Usually, it's nice, safe work, if you can get it. Think about it: When the weather is lousy, the owner sits in the luxury box. The coach stands in the blowing snow. When the heat is on from the press, the owner can duck out his private back door. The coach has to stand in front of the cameras. When a team wins the Super Bowl, the owner gets handed the trophy by the commissioner. If things go wrong, the coach gets handed the blame. Owners rarely have their good names on the line.

Which brings us to Jim Irsay, who you might have noticed just took a different path.

With time now to reflect, wasn't that a neat and entirely fitting trick he pulled? April Fool's Day on Jan. 4. There could not have been a more perfect ending to a Colts season that never did what it was supposed to.

Consider the road to 8-8. Left turns became right, straight became curvy, downhill became uphill. And in the end, pink slips magically turned into four-year contracts, before our very eyes. Eat your heart out, David Copperfield.

There were not enough touchdowns or victories, but a team record must have been set for most things you never expected to see. No. 1, of course, would be Chuck Pagano and Ryan Grigson, arm-in-arm, with Irsay in the middle, posing proudly just before midnight as if they were his sons and it was the end of a joyous graduation day. "Tied at the hip," was one of the phrases used. The Dunphys on "Modern Family" are not this close.

Weren't these two guys supposed to be a barrel of oil and a pitcher of water? What happened in one day, and why? No one will really care why, unless ...

Not to rain on the campfire, but after all this, they'd better not even think of losing the division again. The owner would be mad AND embarrassed. Pagano carried around that famous poker chip in his pocket late in the season. His legacy—and Irsay's—is now the chip on the table.

So the owner has made a huge wager with his franchise, by going thisaway when the entire world was sure he was going thataway. Unusually bold for a man in a suit. Let us then bid adieu to the 2015 season by listing 12 other things—to match Andrew Luck's uniform number—that nobody expected to see happen, but did. Snapshots from a most strange journey.

Who could have known that ...

■ Josh Freeman would throw touchdown passes in 2015 for both the Brooklyn Bolts and Indianapolis Colts?

■ Matt Hasselbeck, getting second wind at the age of 40, would have only six fewer completions than Andrew Luck, and win three more games?

■ Jacksonville would put up 51 points one December day—more than what the Colts had allowed the Jaguars in their past five meetings combined?

■ Adam Vinatieri would miss more PAT kicks (3) than field goal attempts (2)?

■ The rushing game that began the season with so much hope would score only six touchdowns, the fewest for the franchise in 22 years? And only one touchdown more than the defense produced.

■ Frank Gore's rushing average of 3.7 yards per carry would be only marginally better than Trent Richardson's 3.3 in 2014?

■ Five different men would play quarterback?

■ The Colts could beat Peyton Manning, but not Brandon Weeden?

■ In one year, Indianapolis would go from seven players named to the Pro Bowl, to none?

■ An offense designed to be among the league's most unstoppable would finish 28th in yardage, south of the Cleveland Browns and Miami Dolphins, and 24th in points scored?

■ Luck would go from No. 1 in the NFL in touchdown passes to No. 25? And have a completion rate considerably lower—55.3 percent to 63.2—than Dan Orlovsky in the 2011 throw-away season?

■ And the first Monday after the last game, a man who beat leukemia would sit at a microphone talking about coaching the Colts again and say, "This is absolutely the best day of my life."?

Boy, Pagano must really like Long's Bakery and St. Elmo.

So it was a season nobody anticipated, with a final chapter nobody saw coming and now cannot fully explain. The Colts leadership has been granted a mulligan for 2015 from the owner, who will have some explaining to do if it doesn't work out. Luck's fourth season was a washout, but Irsay clearly recalls the fourth year of another quarterback with a high ceiling. Peyton Manning went 6-10 in 2001, and threw 23 interceptions. He never won fewer than 10 games in a season again.

Of course, the coach was fired after 2001. Everyone expected the same this time, but that was our mistake. The memory of the 2015 Colts will be an entire season spent off script, even to the Monday beyond. Some boos, some cheers, but often with one word that fit so many occasions.

Huh?

The last one goes to the owner. His call. The buck stops there.•

__________

Lopresti is a lifelong resident of Richmond and a graduate of Ball State University. He was a columnist for USA Today and Gannett newspapers for 31 years; he covered 34 Final Fours, 30 Super Bowls, 32 World Series and 16 Olympics. His column appears weekly. He can be reached at mlopresti@ibj.com.