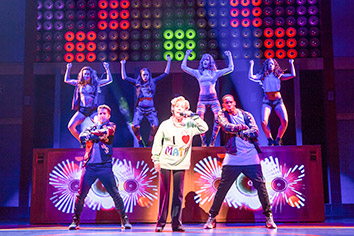 Spending part of the holidays in Chicago afforded me the opportunity to catch "Gotta Dance," the new musical finding its legs in the Windy (and, in this case, icy) City before a hoped-for Broadway run (Bank of America Theatre, through Jan. 17).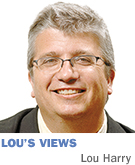 The premise is simple: A pro basketball team decides to create a 60-and-older dance troupe as a halftime gimmick. A cross-section of characters apply (cue "A Chorus Line"-like opening) before realizing they are going to have to perform a hip-hop number. It's very, very loosely based on an actual New Jersey Nets dance squad chronicled in a 2008 documentary of the same name.
While the content is slight, the pleasures are many. At the top of the list, the joy of seeing Lilias White ("Once on This Island"), Andre De Shields (the original "Wiz"), Nancy Ticotin ("Orange is the New Black") and especially Georgia Engel ("The Mary Tyler Moore Show") prove there's no age limit on stage presence, charm and talent.
They are given a serviceable score—never dull but rarely rising high—with a few songs by the late Marvin Hamlisch and the rest by Matthew Sklar ("Elf: The Musical"). The by-the-book script contains few surprises but an abundance of fun moments. A little more conflict might help, as would a stronger finish. I won't spoil anything, but you can fairly easily figure out what will happen in the final scene.
Based on the premise, nobody would expect it to break any ground. But "Gotta Dance" did leave me thinking about the lack of older characters in musicals. While there's much talk of theater audiences being white-haired, what's happening on stage in most shows revolves around the problems of those significantly younger. I cannot recall another show featuring a grandmother/granddaughter song ("Princess"), let alone one about the strength needed when you are married to someone suffering from Alzheimer's ("The Waters Rise").
With some tweaks and a bit of corrective surgery, "Gotta Dance" could be pleasing multigenerational crowds for a long time. It's certainly a step up from the nostalgia-pandering "Flashdance"/"Ghost"/"Dirty Dancing" offerings we've seen far too much of lately.
__________
Back in 2008 when Beef & Boards Dinner Theatre last had a go at Ray Cooney's door-slamming comedy "Run for Your Wife," the production transcended. This time out (through Feb. 7), what's on stage is less inspired.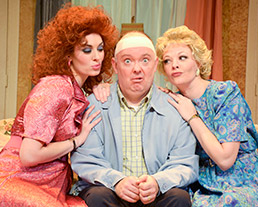 A bigamist's life gets more complicated in "Run for Your Wife." (Photo courtesy of Beef & Boards Dinner Theatre)

The plot is spelled out early. A deceptive British cabbie has two wives living less than five minutes apart. The fragile house(s) of cards begins to collapse, though, when his time-sharing schedule is thrown off by an attempt at heroism. Rather than come clean, the cabbie (Eddie Curry) digs himself deeper and deeper into a web of lies.
The clever device of simultaneously using the same set for both houses still works. And I still admire the mechanics required to build a farce such as this. But farce is a delicate instrument. And, this time out, the characters seemed to be deliberately complicating matters instead of trying to dig themselves out. Also, the play seemed more dated than I remember, with limp-wrist and "pansy" references coming across as more cringy then funny. 
There are laughs, yes, but primarily in less shriek-y moments. In such comedies, playing big isn't always better. 
__________
Halfway through the first act of "Lloyd & Harvey's Holiday Extravaganza" (Dec. 26 at the White Rabbit Cabaret), I was looking forward to celebrating in print this raucous, fully committed merger of variety show and long-form character improvisation.
Before intermission, though, I was ready to pack up and leave the club.
What happened?
Let's back up first to the promising start. With a pair of contrasting octogenarian hosts—the abrasive Harvey and the low-key, rim-shotting Lloyd—and some talented local finds as guests—in this case, home-for-the holidays stand-up comic Luke Thayer and singer/songwriter Dan Snodgrass—I thought I saw the method in this madness: Offer an anchoring framework, mix it up with solid tonight-only acts, and the result is a fun monthly event.
But then Walter happened. Apparently, Walter is a recurring character in the "Lloyd & Harvey Wowie Zowie Show"—the monthly event this holiday performance was a slight variation. Apparently, Walter is a developmentally disabled adult who drinks and wants a spot in the show. Apparently, we were supposed to laugh at Walter as he tried to sing "Somewhere Out There," barely hitting a recognizable note.
Granted, the bulk of the audience was laughing at this character's humiliation and Harvey's verbal abuse of him. But I wasn't.
I'm all for pushing envelopes. But the act provided nothing but, "Let's mock the mentally ill guy." I'd expect more from a Tom Green movie.
There was some sign of life when burlesque performer Alabaster Betty offered a wild dance as a life-size doll and Reggie, a child puppet, was charmingly played—at least until misogyny and child molestation "jokes" put a damper on both bits. Such hostility, combined with Harvey's increasingly shrill ranting, turned a promising evening into a long night of provocation sans payoff.•
__________
This column appears weekly. Send information on upcoming arts and entertainment events to lharry@ibj.com.
 
Please enable JavaScript to view this content.