Whether it's a small sandwich shop or another budget-breaker steakhouse, any addition to the downtown dining scene generates some buzz when it opens for business.

Well, almost every one.

Somehow, Reata (247 S. Meridian St., 638-2200) slipped in under our radar, opening in late 2015 with little fanfare.

Cleary geared toward evening activity, Reata is also open for lunch, which is when we stopped in, pleased to find care has been taken to create a handsome, spacious, country-themed bar, restaurant and dance hall that doesn't duplicate anything already in the Mile Square mix. If any conventioneers ask you where to go for line dancing within walking distance, you now know what to tell them.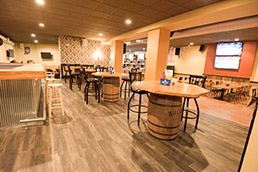 The roomy new Reata features two bars, a dance floor and free line-dance lessons. (IBJ photo/Eric Learned)
In daylight, though, the dance floor, rum and bourbon bar, and fancy rest rooms (clear glass converts to frosted glass when you lock the stall) are less important than what's on the plate and at what price.

Mac & Cheese ($7.95) isn't traditionally a shared appetizer, but since it was listed under starters alongside Loaded Nachos, Wings and Housemade Chips, we asked for multiple forks and dug into the cavatappi soaking in cheddar and topped with a light panko crust. A $1.95 upgrade added chunks of smoked bacon but didn't propel the dish above the ordinary.

Better—and a bit more economical—were the Roasted Texas Chili ($6.95), a bean-free winner with finely crumbled chuck beef and a distinct sweet pepper flavor; and Baked Potato Soup ($5.95), a big-enough-to-share bowl with spuds, bacon, cheddar and onion.

Sandwiches and tacos dominate the menu, and there's a long list of items that can be added. Rather than individualize for us, our friendly waitress delivered platters of toppings—including black beans, roasted corn and avocado—which helped us accessorize to our taste. All the DIY, though, left me yearning for something deliberately crafted in the kitchen.

That said, we had no complaints about the half-pound Black Bean Burger ($9.95) or the sweet-barbecue-sauced Pulled Pork Sandwich ($9.95). However, with Tacos (veggie, carne asada, carnitas and pollo) priced at $3.95 each, it was difficult not to compare them to better ones we've had elsewhere.

The fryer was down, so tortilla chips were substituted for fries, which was fine given the quality of the finely diced, house-made salsa and the array of toppings already on our table.

Contemporary country music (our mix included Maddie & Tae's "Girl in a Country Song") played at a level conducive to conversation, and large-screen TVs—volume off during lunch—make clear that Reata is ready for game day. (There are dedicated rooms for IU and Purdue fans.)

I look forward to returning when live music is playing and the dance floor is full.•