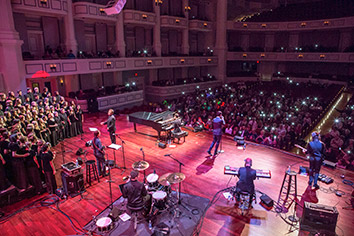 The Center for the Performing Arts has finished two consecutive seasons with a surplus, but the young not-for-profit is still continually brainstorming creative ways to increase revenue.
A new fundraising manager has pushed to simplify the online donation process and shorten the length of time before an individual contributes to the center, and an events manager has been hired to keep the center's campus filled with activity all week.

Syrcle
"We're an organization of continual learning. We can try some things and fail, and not repeat them," said Diane Syrcle, the center's vice president of development. "We can also take some risks. We're not trapped by, 'We've always done it this way.'"
So far, the efforts seem to be providing results. Revenue from building and room rentals increased 114 percent from fiscal year 2014 to fiscal 2015. Individual donations increased 16 percent, and the length of time between a person's first visit and first contribution has decreased by eight months.
The organization ended fiscal 2015 with a surplus of $260,445; fiscal 2014's surplus was $176,930.

Moskalenko
"That is good news for our donor base, because they know we are being good stewards of their money and we are investing it wisely," CEO and President Tania Castroverde Moskalenko said. "We've done a lot of work to be very lean."
But leaders of the Carmel arts venue admit they need to continue growing their individual donor base and keep up a steady stream of new events to maintain a strong community presence.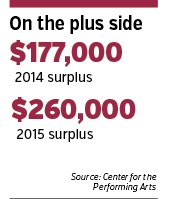 "When arts organizations are being built, sometimes the goal is just to get the doors open," Moskalenko said. "It's a young company. We as an organization are very pleased with where we are."
But at this stage, the center should be expected to have a surplus, several experts say.
According to a study from the New York-based Nonprofit Finance Fund, 33 percent of arts organizations expected to end fiscal 2015 with a surplus; 51 percent reported ending 2014 with leftover funds.
"Is there a defined time? There really isn't," said Sandi McKinley, the Nonprofit Finance Fund's vice president of advisory services, when asked how long it should take an arts not-for-profit to break even. "It depends on the organization and its market."
Carter Wolf, former president and CEO of The Indianapolis Art Center, said the Center for the Performing Arts is beyond "the startup stage" and should now operate in the black.
"I think it's good fiscal management," Wolf said. "They are something that is well planted in the community, and the community doesn't want that to go away."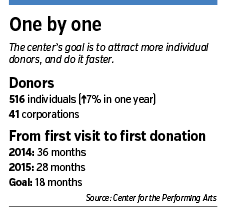 According to an Indianapolis performing-arts market study commissioned by the Indianapolis Opera and conducted about a year ago by Carmel-based Smari, more than 90 percent of respondents were familiar with the Center for the Performing Arts, which makes it the fourth-most-recognizable such organization in the area.
But even with the high name recognition—and the 61 percent of respondents who had attended an event—only 7 percent said they had donated to it.
Syrcle joined the center about a year ago to lead fundraising efforts after leaving the Oregon Symphony in Portland. Her goal was to attract more donors and increase the amounts contributed.
When she started near the end of 2014, the gap between a patron's first visit to first donation was 36 months.
"Many individuals had a wait-and-see attitude," Syrcle said. "What's going to happen over there? Is it really a community asset?"
That window has shortened to 28 months, but Syrcle wants to do even better—18 months.
Her strategy is to engage more people and offer more ways for visitors to participate in events, such as attending the Dance Discovery Series or hosting a New Year's Eve party, which the center initiated to ring in 2016.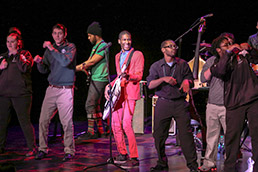 Students from Shortridge High School joined artist Jon Batiste, center, on the Tarkington stage at The Center for the Performing Arts.
 (Photo courtesy of The Center for the Performing Arts)
"We could just put on shows and be done with it. But it's the commitment that says we all believe that the arts transform lives," Syrcle said. "For me, it's how many people can we invite and how can we get them to come back again and again and again?"
The staff has created a mapping system to track how many shows an individual has attended, what the shows were, and what kind of related participatory event could further engage the patron.
"Our approach is customized and it's very person-centric," Syrcle said. "Every person has a different need."
She's also pushing to streamline online giving by introducing a quick and easy form. The center has gone from having four online donors to 100.
Syrcle has focused her efforts on individual donations, mostly because corporate gifts were already strong. Most recently, Carmel-based Allied Solutions LLC signed on as a title sponsor for four years.

Typically, organizations experience the opposite, with a majority of financial support from individuals rather than corporations.
"Because this is such a prominent venue, businesses want to be associated with it," Syrcle said. "The corporate support here has been very strong."
Another strategy the center is using to raise money is to rent the facilities. Moskalenko said the center has had everything from a baby shower to a funeral inside the Palladium, which has several rooms and spaces available to rent, along with The Booth Tarkington Civic Theatre and Studio Theater.
"For the most part, performing-arts facilities are only active at night and maybe a matinee on the weekend," Moskalenko said. "Now, our goal is to keep our facilities active during the day as well."
She has added an events manager to the staff and recently hired a part-time assistant to help coordinate the rental business. From 2014 to 2015, the center's rental and commission revenue jumped 113 percent.
"I think it's common, but commendable. It's not an easy thing to do," Angela White, senior consultant and CEO for Greenwood-based Johnson Grossnickle and Associates, said about renting performance venues. "It gets people to think about the center in different ways."
Wolf said it's common for not-for-profits with event space to rent it out for extra income, but said that can be more difficult for theaters because of the sloping floor in the main space.
"The Palladium is very attractive to a lot of people," Wolf said. "But it's an awkward space. It's built around the big hall."
Theaters are "not made to be a rental hall," he said.
McKinley warned that performance venues also run into trouble when they try to balance renting the facility and scheduling shows.
"You start making choices for the earned revenue over the reason you exist," McKinley said.•
Please enable JavaScript to view this content.