The NCAA last month reopened negotiations with CBS and Turner Broadcasting System for its lucrative men's basketball tournament television contract.

With the deal counting for 85 percent of the NCAA's annual revenue, there's plenty at stake.

The group's current, 14-year deal with the two broadcasters stretches through 2024, but has two time periods—called look-ins—that allow the parties involved to negotiate for an extended or altered deal. This is the first, and the second isn't for another five years.

While officials for the NCAA, CBS and Turner declined to comment on the negotiations, sources familiar with the talks said NCAA senior leadership and high-level executives from the two networks—including CBS Sports Chairman Sean McManus and Turner Broadcasting President David Levy—are discussing pushing the deal out as far as 2032.

While CBS and Turner officials are pleased with the current deal and willing to discuss extending the contract, sources said it's uncertain just how much more the broadcasters are willing to pay.

Foster
"This TV contract is the NCAA's lifeblood," said Mark Foster, portfolio manager and chief investment officer of Columbus, Indiana-based investment firm Kirr Marbach & Co. "If we're invested in a company with this sort of structure, we're paying really close attention to this decision. It creates a real risky situation for them if they push it out that far—to 2032—and somehow get it wrong."

The look-in period does not stipulate that the sides must extend or alter the deal, which at its current rate will pay the NCAA $10.8 billion over its 14 years. That's a hefty $771 million each year, but the contract doesn't have the annual escalators included in most television sports contracts, said a source familiar with the deal.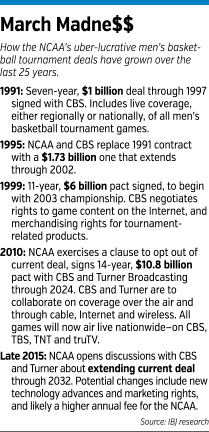 Another source familiar with the talks said the NCAA is seeking—in time—$900 million or more annually.

In the NCAA's fiscal year ended Aug. 31, 2014, its annual revenue was $906 million, with $564.9 million of that flowing back to its member institutions. A big boost to the broadcast contract would mean a windfall for member schools, including public universities like Indiana and Purdue and private ones like Butler.

In addition to extending the deal and adding an escalator clause, sources familiar with the talks said, the NCAA and the networks are looking at technology advances in broadcasting and broadband, and additional marketing rights.

There is no deadline to update the deal—if it happens at all—but a source said officials for the NCAA, CBS and Turner would like to get the discussions concluded in the first half of this year.

The current deal was negotiated in 2010 and took effect in 2011. Rights-fee deals for most sports properties have escalated dramatically since then.

In 2014, ESPN and TNT signed a nine-year deal valued at $2.7 billion a year to air NBA games.

A recent PricewaterhouseCoopers study concluded that media-rights revenue across all sports will overtake ticket revenue as the top moneymaker by 2018.

"Media rights for sports are on fire. They're red hot," said Larry DeGaris, director of academic sports marketing programs at the University of Indianapolis. "Live sports is one of the few things that still plays very well on cable and network TV. Everything else you can get free on the Internet or on Netflix for $8 a month."

DeGaris
In 1991, the NCAA signed a seven-year, $1 billion deal with CBS through 1997. Sports marketers think that, within five years, the NCAA will be able to command $1 billion a year for the rights to broadcast the 68-team men's hoops tournament fondly known as March Madness.

The tournament's popularity has grown unabated, sports marketers said, since 1979, when Indiana State's Larry Bird and Michigan State's Earvin "Magic" Johnson captivated the nation.

The tournament's popularity has been fueled over the last two decades by the proliferation of cable and satellite TV and the exposure that's given college basketball—as well as the emergence of wildly popular March Madness office pools.

"This tournament has everything: great storylines, human interest, underdogs and marquee brands," said DeGaris, who recently published a book on sports marketing that includes a chapter on broadcast deals. "Because it's college, it brings in young viewers—a difficult audience to reach—so that draws a premium."

Foster said he understands why the NCAA, which employs about 500 people at its downtown Indianapolis headquarters, would want to lock in such a long-term deal.

"Of course, this is their cash cow, and they're looking for long-term stability," he said. "With the trend of people cutting the cord [to TV] these days, it might be a good move. But it also might cause them to dramatically undervalue their property. Who knows what TV ratings andconsumer habits will be in 10 years?"

The tournament's broadcast TV audience has grown steadily over the last decade, according to New York-based Nielsen Media Research.

In spring 2010, CBS and Turner agreed to air all of the tournament's games live on CBS, TBS, TNT and truTV. Not only did 2011 mark the first time all tournament games aired live nationally, but it also marked the first time two competing networks came together to broadcast the tournament.

Last year, the two semifinal Final Four games—shown on TBS—were the most-viewed non-football sports events on cable TV. The championship game on CBS, pitting Duke University against the University of Wisconsin at Lucas Oil Stadium, drew a TV audience of nearly 28.5 million, according to Nielsen; that was 2015's most-watched non-football sports program on network TV.•