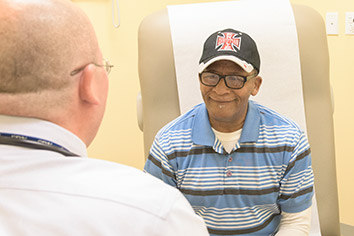 It typically takes 17 years for an improvement in medical practice to become standard procedure across the country.
But Indianapolis businessman Jim Vandagrifft thinks he can shorten that time significantly—and build up a nice business doing so.
Vandagrifft's company, Preferred Population Health Management, is trying to get hospital systems, health insurers and area agencies on aging to use a set of tools and techniques to help dementia patients and their families—tools that were developed by the medical staff at Eskenazi Health, the Indiana University School of Medicine and the Regenstrief Institute.
Because there are no effective medications to treat most dementias, the Aging Brain Care model uses a team of non-medical staff members to regularly check on patients in their homes, keep them on their regimens, and keep them off common medications that can worsen brain function.
That approach, known as the Aging Brain Care Model, has shown in randomized clinical trials published in medical journals to reduce depression among patients and their care givers, cut ER visits and hospitalizations in half, and save at least $1,000 per patient per year.

Boustani
But simply publishing those results didn't get other hospitals to follow suit—much to the frustration of Dr. Malaz Boustani, the physician leading the Aging Brain Care program.
So a year ago, IU struck a licensing deal with Preferred Population, which allows the company to sell other health care providers access to the Aging Brain Care model and, significantly, to an electronic health-record system developed specifically for that program.
Preferred Population has now signed on three clients in Indiana and said it's in talks with others in California and Texas.
Vandagrifft
In five years' time, Vandagrifft said, Preferred Population can bring the Aging Brain Care tools to more than 1 million Americans and pump up its own revenue to $140 million. If successful, Preferred Population would add to a plan by Eskenazi Health to extend the Aging Brain Care model—via telemedicine and even a digital avatar—to 10 million patients by 2030.
"There's got to be a work force that goes into the home, because it's the psycho-social issues taking place in the home," Vandagrifft said.
Preferred Population is not only touting the success the Aging Brain Care model has seen at Eskenazi—where the mission serving mostly indigent patients is far different from that of most hospitals—but is also pairing the techniques with an electronic health record and even patient-support organizations that are critical to making the model work.
In essence, Preferred Population is trying to provide the packaging, marketing and distribution functions critical to the rollout of any key product. That type of attention is typical for new drugs and medical devices. But innovations in the delivery of medical care rarely receive such support.
That's one reason it takes so long for breakthroughs in medical practice—even well-documented ones—to spread.
"Just publishing and giving speeches was not enough," said Boustani, who heads up the Aging Brain Care team and now the Center for Brain Care Innovation at Eskenazi.
"You can't do distribution on a Saturday or Sunday, part time, while still doing full-time research," Boustani said. "Distribution is a science that requires the same attention as discovery science."
Both Boustani and his wife, Mary, are working with Preferred Population to help take the Aging Brain Care model around the country.
That effort is proceeding in tandem with a $50 million plan by Eskenazi to expand the model through what it calls the Center for Brain Care Innovation.
Boustani said he envisions the center as the "core" for new delivery innovations, which could work with several "franchises" doing work to package, market and distribute those methods to other health care entities.
Dr. Esther Nash, specialist leader of health care strategy and operations at Deloitte Consulting, said Boustani has run up against a common challenge in changing health care practices.
Successful innovations in health care are so difficult, she said, because cost-savings—like those achieved by the Aging Brain Care program—often don't immediately benefit doctors and hospitals financially, but instead help the health insurance plans that finance most U.S. health care services.
Some health insurers have tried to get doctors and hospitals to change how they care for patients, but with limited success.
"Changes in care delivery require large changes in human behavior—in how people work and how consumers behave in the care system—and changes to the culture of the doctor-patient relationship," wrote Nash, the Deloitte consultant, in an e-mail. "Sure, a new [medical] device might require training on how to use it, but not a fundamental change in how the 'actors' in the health care system relate to each other on a day-to-day basis. Changing human behavior is the hardest thing to do—but it's a key part of care delivery innovation."
Preferred Population's strategy is to enlist organizations that are already focused on those kinds of behavior-changing patient-support services. The company has signed contracts with two area agencies on aging—CICOA in central Indiana and Aging & In-Home Services of Northeast Indiana—who send social workers and other staff to patients' homes.
Those workers bring meals to patients, make sure they get transportation to doctor's appointments, check which medicines patients are and aren't taking, and provide information and support to care givers.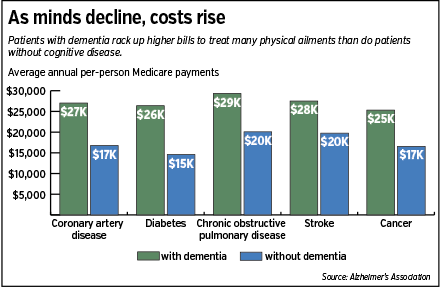 The agencies have traditionally been funded by federal and state programs. But in the past five years, hospital systems and health insurance plans have started signing contracts with them to try to ensure patients coming out of hospitals follow all their discharge instructions—so they don't come back.
That's because the federal government now penalizes hospitals if they have too many patients return to the hospital within 30 days of a previous stay.
"We're not a medical provider, but the services we offer can affect the health outcomes," said Orion Bell, CEO of CICOA. It contracted with Preferred Population in March to use the Aging Brain Care tools.
Preferred Population, by selling access to the electronic health-record system created for the Aging Brain Care model, is helping the agencies trade patient information with their hospital partners. The electronic system also helps the agencies identify patients in the most need of a visit and to document their results for health insurance programs.
In the Fort Wayne area, Aging & In-Home Services plans to start using the Aging Brain Care electronic health record in February to serve 57,000 patients—most of whom do not have dementia. But in doing so, it knows those patients with mental health problems are often the most likely to be hospitalized or to struggle after a hospital visit.
"It's a huge issue," said Connie Benton Wolfe, CEO of Aging & In-Home Services of Northeast Indiana. "Depression is a huge issue for many of our clients, who are quite isolated."
Vandagrifft also is using the Aging Brain Care model in the home health care agency he and his wife run. That company, called Preferred Home Health Care, employs 75 people and serves about 250 patients around Indiana.
Vandagrifft's hope is that the growing number of organizations adopting the Aging Brain Care tools and techniques will make it easier for hospital systems to sign on to the approach as well.
If that happens, Preferred Population could succeed at getting other health care providers to change their health care practices years ahead of schedule.
"If I can tell you today that I can save you $12 million on a population of 5,000 patients, why wouldn't you do that?" Vandagrifft said.
But, he added, "As you bring a concept to a health system, they're going to do their due diligence. They find 50 other companies promoting cost savings they ought to be talking to. That process is just a very lengthy process."•
Please enable JavaScript to view this content.