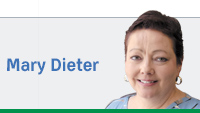 The concept of Hoosier hospitality suffered some body blows in 2015, thanks largely to the person who, more than anyone, should be looking out for Indiana's reputation: Gov. Mike Pence.
First the governor and his allegedly Christian buddies fought fiercely for the right to legally discriminate against members of the gay and transgender community. Then Pence uninvited Syrian refugees from settling in Indiana, even asking Roman Catholic Archbishop Joseph Tobin to reverse the Indianapolis diocese's plan to sponsor a family. To his credit, Tobin declined.
But 2016 has dawned and we like to think of a new year as an opportunity to begin again. So when the calendar page flipped from Dec. 31 to Jan. 1, the imagery of turning over a new leaf seemed apt. Maybe 2016 would be different; maybe we could set aside those embarrassments and revive Hoosier hospitality.
If only.
Just a few hours into the new year, a drink-induced diatribe—this time by a private citizen—again cast Indiana as a selfish, mean-spirited place. The perpetrator was celebrating New Year's Eve at Kilroy's Bar 'n' Grill in Indianapolis when another patron suffered an apparent heart attack. The first woman took to Facebook to mightily criticize Kilroy's staff for tending to the stricken patron.
Her insensitivity was appalling (as were her spelling and punctuation, but that's another column). Among her comments (verbatim; don't blame me):
". . . having our meal ruined by watching a dead person being wheeled out from an overdose my night has been ruined!!!
". . . The manager also told us someone dying was more important than us being there making us feel like our business didn't matter . . . I guess allowing a Junkie in the building to overdose on your property is more important then paying customers."
In ensuing days, the post and a response from the Kilroy's manager went viral, causing so much criticism to rain down on the self-absorbed patron that she de-activated her Facebook page. Yes, her comments were revolting, but some of the criticism—withering condemnations and scary threats—was just as vile.
The original post and the comments illustrate how social media have coarsened our discourse. When our fingers are busy doing the talking, they cannot be used to hold our tongues. Though Facebook is not anonymous and most newspapers require that comments be signed, people seem ever more comfortable spewing hatred, as if the screen grants them, like the Wizard of Oz, some level of invisibility and invincibility.
Social media mean that the drunken rants of yesteryear, shared only with a few unfortunates within earshot, now have the ability of becoming worldwide pronouncements that reflect badly on an entire state.
Also troubling is the patron's assumption about the stricken woman, who was not an overdosing junkie but a 57-year-old woman celebrating with her family. But what if the victim had been an addict? Doesn't an addict's life matter? Would she deserve the ultimate penalty—death—because of her vulnerability to the scourge of drugs?
Call me Pollyanna, but I wonder: When did we become so hard-hearted as a society, so judgmental and callous about human differences, so disdainful toward human imperfections, so disconnected from the feelings and needs and pain of others as to become furious when their troubles intrude on our lives and become resentful about their very existence?
I also wonder: With leaders and citizens like these, can and should Indiana ever again be viewed as a hospitable place for all?•
Please enable JavaScript to view this content.