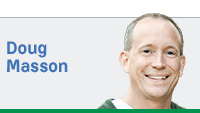 In college, I took a philosophy class called "Valuing Life." We talked about things like abortion, euthanasia and animal rights. It was a great class for a college kid. At that age, the big questions are endlessly fascinating. Getting older has a way of dragging us down into more mundane concerns.
For its part, the Indiana General Assembly injects itself into little questions and big questions alike. For years, of course, it has been wrestling with abortion and its underlying "nature of life" implications. This session, it appears poised to get drawn into the less weighty question of where people should go to the bathroom.
Sen. Jim Tomes, R-Wadesville, has introduced legislation affecting transgender people (and college bars with long lines for the women's bathroom) that would create a crime called "single sex public facility trespass."
Basically, if you are biologically female but gendered male, you commit a crime if you go into the men's bathroom. And vice versa.
The application of that "valuing life" class to this question is obvious enough. It taught us to ask what it is about human life that makes it special. What makes human life more valuable than the lives of other animals? Is it the biographical life we value or is it the mere fact of human biology we find consequential?
The biological approach has the advantage of simplicity. If you are alive and have human DNA, you're special and valued, regardless of brain function, self-awareness or anything else.
Valuing the biographical content of a life and its potential is a lot more complicated. At that point, you start asking difficult questions such as whether a human life in a permanent vegetative state is truly more valuable than more perceptive, non-human life. And if so, why?
Abortion illustrates the stark contrast between these perspectives. If the value in human life is a function of nothing more than biology, abortion rights are difficult to justify. The rhetoric of the pro-life side insists that abortion is murder just the same as shooting someone on the street. Killing a blastocyst, zygote or fetus is morally equivalent to killing someone in the prime of his or her life.
From the other perspective,because the biographical content of these different types of lives is so distinct, the pro-choice side sees this moral question as much more nuanced, requiring a balancing of competing interests.
Somewhat interestingly, Sen. Tomes' bathroom crime bill reflects this biological-versus-biographical perspective. Gender identity is an aspect of a person's biographical life.
Identity can be confusing. There is a confounding subjectivity about it, requiring some trust in the person assessing his or her own gender identity. In some cases, gender may not track the person's biological sex. Nevertheless, the bathroom crime bill determines to cut the Gordian knot by steadfastly focusing on the biology and disregarding the person's gender identity entirely. If you do not have a "Y" chromosome, you will stay out of the men's bathroom or risk jail time.
The simplicity of this approach offers comfort in a complex world.
Ultimately, however, our humanity is not fundamentally dictated by cells and chromosomes. Such things shape us, but do not define us.
The value of humanity is not borne of a knee-jerk, species-oriented chauvinism. Rather, the value of a human has to do with a human's ability to think, perceive, feel, and care. By that measure, Sen. Tomes' bill does not take into account the complicated nature of our humanity, and the initial appeal of its simplicity is, therefore, suspect.•
Please enable JavaScript to view this content.