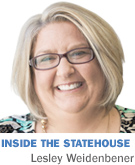 Gov. Mike Pence's one big State of the State surprise—that he's calling for Indiana to build a fourth port—didn't create much buzz among the public or the media, unless it was someone cracking a joke or two.

After all, our landlocked state is some 600 miles from an ocean.

"I didn't even know Indiana had three ports," a friend emailed me after the speech.

But Indiana not only has ports—two on the Ohio River and one on Lake Michigan—it has one of the busiest port systems in the nation. Indiana ranks seventh in the country in domestic waterborne shipments and 15th when international shipments are added. The new port would be in southeastern Indiana near Cincinnati.

Frye
"We're in the Midwest and, when you think ports, you think of coastal ports," said state Rep. Steve Stemler, a Democrat who previously served on the Indiana Ports Commission and whose district includes an Ohio River port at Jeffersonville. "But inland waterways are incredibly important. Goods come from the Gulf of Mexico, up the Mississippi River, and to the Ohio. It's the feeder system for a lot of goods and raw materials that we use in the Midwest."

Sixty companies have operations at Indiana's ports, giving them direct access to international shipping routes. And hundreds more firms throughout the state—including manufacturers, farmers and distributors—receive raw materials or goods delivered by ship or send their products out that way.

"The state's existing ports are located in the Chicago, Louisville and Evansville metro areas, but often handle shipments for central Indiana businesses and companies that are generally within 150 miles of the facilities," said Rich Allen, a spokesman for the Ports of Indiana.

That's in part because shipping by water is often cheaper than by truck, air or train—especially when time is not crucial. And barges can carry heavy goods tougher to transport in other ways. "It's part of a total logistics picture," Stemler said.

So back to Pence's proposal for a fourth port. Turns out, it wasn't that big of a surprise after all for those paying attention to transportation issues. State and local officials have been toying with the idea for several years, and the Ports of Indiana even conducted a feasibility study to see if the big investment–probably hundreds of millions of dollars–would be worthwhile.

Stemler
That study wasn't immediately available, but state Rep. Randy Frye—perhaps the biggest proponent of the idea—said it showed a new port could ignite development in the region but would not cannibalize the trade at the existing ports.

"It would be a tremendous win with lots of jobs," Frye said.

Some of those jobs would come from companies that locate right on the river and need to pull freight off barges. Others could be companies that want to be close to suppliers that receive raw materials by water. And still other companies would locate a little farther away but could still benefit from the rail lines and highways that connect a port to the entire region.

"A new port facility in southeast Indiana could also have economic development synergies with central Indiana," Allen said.

In addition, Stemler said, a southeastern Indiana port would "be to the Cincinnati market what the Jeffersonville port is to the Louisville market." Cincinnati doesn't have its own Ohio River port.

But despite the upsides, developing a new port could take years. Maybe a decade, Frye acknowledged. Developing the infrastructure is labor-intensive. Locks and dams must be available; highways must be able to handle extra-heavy loads. Rail lines must be convenient. Even choosing a spot on the river can be complicated.

But Pence's State of the State address "was day one of the plan," Frye said. "You can't complete a journey if you don't start."•

__________

Lesley Weidenbener covered the Statehouse for two decades while working for three news organizations. She is now IBJ's managing editor.