Patients who have been injured or killed as the result of negligence by Indiana hospitals and physicians could win more cash under proposed changes to Indiana's Medical Malpractice Act.
A Republican lawmaker's plan to raise the caps on successful medical malpractice claims and increase doctors' liability—legislation that Indiana Senate Republicans included on their 2016 legislative agenda—wouldn't normally be the preferred option for Indiana health care providers.
But there's widespread belief that, if the maximum damage caps aren't raised for the first time in 17 years, the law could be susceptible to a constitutional challenge—which could rock the health care system even more than a steady stream of increases.
Sen. Brent Steele, R-Bedford, is billing his legislation as a compromise between physicians and hospitals who are worried about skyrocketing costs and lawyers who represent patients injured or killed because of medical mistakes.

Steele
"Not everyone is going to get everything they want," Steele said. "I'm going to try to do what I think is right and fair for all people."
Steele's bill increases the maximum that can be recovered for an injury or death from $1.25 million to $1.65 million, then ties future increases to the Consumer Price Index.
The legislation also increases—from $250,000 to $450,000—the part of that total the health care provider must pay. The rest is picked up by a state fund. And the bill raises the amount a plaintiff can seek to recover in court without first going through a medical review panel.
A spokeswoman for the Indiana State Medical Association, which represents physicians, said the group is "engaged with all stakeholders" on the issue but would not commit to supporting or opposing Steele's plan.
"The medical malpractice act was put into place to ensure access to health care," said spokeswoman Marilyn Carter. "The ISMA has concerns about any regulatory change that could adversely impact access to health care."
Meanwhile, the Indiana Trial Lawyers Association has deemed the legislation a "good start," but trial attorney Dan Ladendorf said it won't fully address patients' needs.
"We believe there should never be a cap on damages," said Ladendorf, a governing board member for the association. "You are minimizing a person's responsibility for a harm they've caused. That just doesn't seem like a fair measure of justice."
 

Ladendorf
Republican Senate leadership sees the bill as a last-ditch effort to preserve the Medical Malpractice Act, which both sides agree could otherwise be overturned in court.
"The goal is not to punish anyone," said Senate President Pro Tem David Long, R-Fort Wayne. "It's to preserve an outstanding law, [and] makes sure it's modernized to avoid a constitutional attack, which I think it is vulnerable to."
Though 35 states and jurisdictions impose a limit or cap on damages, according to the National Conference of State Legislatures, the caps have been vulnerable to court challenges.
Vulnerability
The Illinois Supreme Court struck down a similar law in 2010 that capped jury payouts, ruling they were unconstitutional under the Illinois Constitution's "separation of powers" clause because juries were not able to determine fair damages.
Caps have also been ruled unconstitutional in Alabama, Georgia, Oregon, New Hampshire and Washington.
But opponents in Indiana so far haven't been successful—though not without trying.
The Indiana Supreme Court in 2013 ruled that plaintiff Timothy Plank, who lost his wife to alleged medical malpractice, forfeited his opportunity to challenge the constitutionality of the law because he failed to make a pretrial motion regarding his intent or mention anything during the trial.
Now, a high-profile case in Evansville challenging the constitutionality of the law is on deck. An Evansville couple says medical malpractice is the reason their daughter is a quadriplegic. A Vanderburgh County judge is expected to take up the case.
One of the key problems with Indiana's system, Steele said, is that it's been 17 years since the cap was increased. That makes the amount seem arbitrary rather than tied to someone's real medical costs.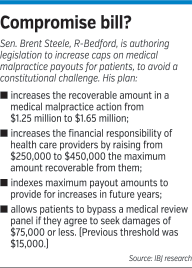 "There is a real concern that this whole act is going to be declared unconstitutional due to the fact that it no longer addresses the legitimate damages of a claimant in an equitable fashion," Steele said.
Proponents of Indiana's malpractice payment caps say they promote cost stability in the health care system and protect doctors from skyrocketing insurance premiums, making the state an attractive place for physicians to work.
Proponents say that, if doctors' personal liability goes up, they could feel strangled by insurance costs and leave for greener pastures.
In the aftermath of Illinois' Supreme Court decision, a 2010 study by the Northwestern University Feinberg School of Medicine and the Illinois State Medical Society found only half of graduating doctors planned to practice in Illinois. A Northwestern professor said Illinois' "toxic" malpractice system drives doctors away. Three percent of the 561 doctors who responded planned to practice in Indiana.
And the Indiana medical association said the fact that doctors are far less likely to own their own medical practices today than they were a decade ago points out that doctors are under intense financial pressure.
"Any changes to [the malpractice system] could alter the balance and adversely impact patients," Carter said. "These proposed changes come at a time when changes to the regulatory landscape, which each have a cost, are putting physician practices out of business. And if they go out of business, or choose to reduce insurance coverage due to cost, it impacts many, many Hoosiers."
Ladendorf, the trial attorney, said he understands the need for certainty in the system—especially in an era of skyrocketing medical costs.
"We're not necessarily saying it would be a good thing if this were found unconstitutional," he said. "It would cause a lot of turmoil."
But doctors need to accept personal responsibility for their errors, Ladendorf said, because the costs of the errors are still very real. In the Evansville case, the family's lawyers say medical care for their quadriplegic child could cost $8 million to $10 million.
 

Engelking
"We hear people talking about socialized medicine," Ladendorf said. "What we do have is socialized medical malpractice, because the caps on damages are this artificial barrier to the damages that are caused to somebody. The state picks up the cost, or federal Medicare picks it up."
Review or not?
Another disagreement between providers and patients is whether to increase the "direct access threshold." Currently, if a plaintiff seeks more than $15,000 in damages, he or she must present the case to a medical review panel, which issues a non-binding advisory opinion about whether a provider committed malpractice. The opinion is then treated as evidence in court.
Steele is proposing to let people seeking $75,000 or less go directly to trial.
Attorney Kathy Lee, a partner at Cline Farrell Christie & Lee who specializes in personal injury and medical malpractice, said it's rare for a malpractice case to be worth just $15,000, so that provision of the law didn't directly benefit most plaintiffs.
"It's an adjustment long overdue," Lee said. "These are expensive cases to pursue."
But attorney Lara Engelking of Engelking Law Group, a registered-nurse-turned-lawyer who represents health care providers in malpractice cases, said that could open the floodgates for frivolous cases.

She said the medical review panel process—which brings three health care providers together, along with a lawyer to review medical evidence—prevents those cases from getting to court.
"It removes a battle of the experts and expedites litigation," Engelking said. "Plaintiffs know we're going to get down to the truth of the medicine by a neutral expert. Health care providers understand that as well."
But the medical review panels don't usually result in favorable rulings for the patient. About 63 percent of all panel opinions since 1976 have found "no malpractice," according to the Indiana Department of Insurance.
Lee said that is a sign the panels don't always provide a fair process.
"It's hard and rare that a patient gets a panel that is brave enough to step up and say that another health care provider was negligent and caused an injury," Lee said.
Steele said he wants the result of his legislation to be a "compromise" between health care providers and patients. His proposal follows a summer-study committee of the issue after similar bills were defeated last year.
Steele's bill has been referred to the Senate Judiciary Committee, where he is chairman. Still, he said there is more work to be done to convince some groups to support the legislation.
"We were going to come to the session with an agreed-upon bill," Steele said. "But as is always the case, it seems like in the legislative process, the closer you get to the day of reckoning, people start [backtracking]. They assure me everybody's going to do their best" to support it.
It's also possible the bill will get some bipartisan support. House Minority Leader Scott Pelath, D-Michigan City, said he was interested to see malpractice changes on the Senate GOP agenda.
"That has to be addressed in one way, shape or form," Pelath said. "I hope we can do it in a way that both the legal community and consumers and providers can live with."•
Please enable JavaScript to view this content.