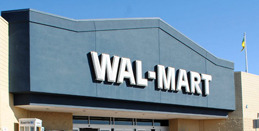 Global retailing giant Wal-Mart is closing 269 stores, more than half of them in the U.S., as it focuses on e-commerce and strengthening its massive Supercenters.
Of the 154 stores being closed in the U.S., 102 will be in its Walmart Express category, which has been in a pilot program since 2011. The retailer also will close 23 of its Neighborhood Market stores, 12 Supercenters, seven stores in Puerto Rico, six discount centers and four Sam's Clubs.
There are no Walmart Express locations in central Indiana, according to Walmart's website. There are about 700 Neighborhood Markets nationally, eight of which are in the Indianapolis area. As of late Friday morning, the firm had not specified which stores would close.
The remaining 115 locations to close are spread over Latin America, mostly in Brazil.
The stores being shuttered account for a fraction of the company's 11,000 stores worldwide and less than 1 percent of its global revenue.
The closures will affect 16,000 workers, 10,000 of them in the U.S.
"We invested considerable time assessing our stores and clubs and don't take this lightly," CEO Doug McMillon said. "We are supporting those impacted with extra pay and support, and we will take all appropriate steps to ensure they are treated well."
Wal-Mart shares fell 1.8 percent to $61.91 late Friday morning as the broader market declined. They have lost 29 percent of their value over the past 12 months, dragged down by slow growth and profit declines.
Some investors may be disappointed that the cuts aren't deeper, said Brian Yarbrough, an analyst with Edward Jones.
"I don't think this is enough to move the needle," he said. "I think they need to exit some markets totally and close a lot more than they are closing."
Please enable JavaScript to view this content.