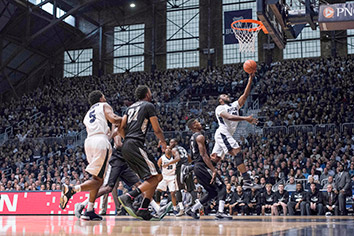 Want a big gulp of Indiana basketball? Let's go see where the 10 Division I programs in this state play: 10 arenas in 20 days. My tour begins.
Hinkle Fieldhouse (opened in 1928). Providence, 81; Butler, 73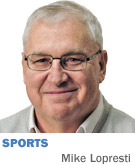 First impressions: It's big, of course. Five stories and 2.2 acres, to be exact. And all the windows. Not just the signature skylights, but a window in the upper-deck men's rest room gives a swell view of the Butler Bowl next door.
Not to miss: The Hinkle Fieldhouse History Tour. Walk around the concourses, read the signs, relive the past.No. 13 is about how Jesse Owens once ran the 60-yard dash here. No. 17 highlights Roosevelt Jones beating Gonzaga. No. 15 mentions the world's largest piano recital. No. 7 explains how the place was used as military barracks during World War II. Walk the Bobby Plump ramp in the southwest corner. No Plump, no "Hoosiers."
Last impressions: Charm, tradition and a live bulldog to pet. From Athletic Director Barry Collier: "I've never been to heaven. I'm not sure I'm going. But when I come into Hinkle and the sun is streaming through the skylights, this is basketball heaven."
__________
Mackey Arena (1967). Iowa, 70; Purdue, 63
First impressions: It's Rick Mount Bobblehead Night! But only to the first 2,000 fans, which is why the line was a block long waiting for the doors to open. The student section, the Paint Crew, is reporting for duty. Friendly advice: Wear black.
Not to miss: The historical stuff spread around the concourse. John Wooden's letter sweater. A corner of Gene Keady's desk. A picture of Neil Armstrong's Mackey speech, weeks after he returned from the moon. While walking, stop by the gourmet cupcake stand.
Last impressions: On Dec. 2, 1967, Lew Alcindor-led UCLA beat Purdue 73-71 in the final seconds, and Mount scored 28 points in his first college game with a plate protecting his broken foot. Wooden had come home. Forty-eight years later, opening night is still the No. 1 game in arena history.
__________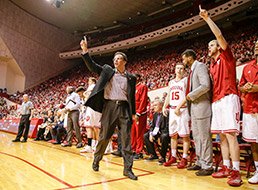 Climb to Assembly Hall's cheap seats to feel as though you're next in line at a ski jump. (AP photo)
Assembly Hall (1971). Indiana, 59; Wisconsin, 58     
First impressions: Red carpet, red vests for the ushers, red championship banners, red 3-point lines, red courtside seats. Notice a trend? The lobby construction reminds us it will soon be Simon Skjodt Assembly Hall.
Not to miss: The view from the balcony, if you've ever wanted to know what a basketball game looks like from a blimp. From the floor, climb 32 steps to the lobby. Then three ramps to the main level, 72 steps to the balcony, 21 steps to the top row. Now look down. You feel as if you're next on the ski jump.
Last impressions: You can almost still see Christian Watford's 3-pointer to beat No. 1 Kentucky, or the 94-29 smashing of Notre Dame in the dedication game. But most of all, Feb. 23, 1985. An early Purdue lead, an angry Bob Knight, a handy chair to throw. You know the rest.
__________ 
Memorial Coliseum (1952). IPFW, 85; South Dakota, 65     
First impressions: This place doesn't look 64 years old, with its plush renovations, from the raised roof to the sophisticated lighting system. General Manager Randy Brown mentioned the sprawling complex hosted 1,300 events last year. While IPFW lofts jump shots, "Sesame Street Live" goes on next door. The Coliseum takes in citizens during civic emergencies and the chef bakes cookies.
Not to miss: Johnny Appleseed's grave, just across the parking lot.
Last impressions: IPFW has a dilemma: Play in the Coliseum with all its creature comforts, but whose size swallows up the night's attendance of 1,077? Or in a much more intimate but less-well-heeled campus gym? The Mastodons split locations now, and are 5-0 in the Coliseum this season, averaging 88.4 points. The 13-4 start is their best since joining Division I in 2001. If the crowds grow, they have just the place.
__________     
Indiana Farmers Coliseum (1939). IUPUI, 74; South Dakota State, 67
First impressions: The stained glass windows bespeak an earlier era, when it was built on the State Fairgrounds as a Depression-era works project. So do the huge photos by the box office. There's Billy Keller dribbling! John Kennedy speaking! John Lennon singing! There's a prized State Fair steer!
Not to miss: The inconspicuous plaque in the corner of the lobby with 74 names: "In memory of those who perished, Oct. 1, 1963." That's when propane tanks near a concession stand exploded during a Coliseum ice show—one of Indianapolis' darkest hours.
Last impressions: It's a true utility player. One day, there are 18 inches of dirt on the floor for livestock. Another day, it's gussied up to name the State Fair queen. IUPUI hopes playing here will help the program, even with campus four miles away. The Jaguars sometimes have a basketball game in the afternoon, and the Fuel a hockey game at night. Takes 2-1/2 hours to switch.
__________
Purcell Pavilion at Joyce Center (1968). Pittsburgh, 86; Notre Dame, 82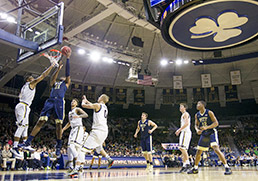 Notre Dame has beaten seven No. 1 teams at Purcell Pavilion, but lost to No. 24 Pittsburgh. (AP photo)
First impressions: Heritage Hall, full of Irish memorabilia, including a piece of original goal post from the stadium. The names of every letter winner in school history ring the top. When they announce the Irish starters, they include their dorms. Nice touch.
Not to miss: One wall of the upper concourse is devoted to all the No. 1 teams upset here—seven by the men, one by the women. Most famous was ending UCLA's 88-game winning streak in 1974. When the Irish upset the top-ranked San Francisco Dons, a few students dressed up as monks, and NBC named the student section player of the game. "The students made this place," Digger Phelps said. "That's why we beat seven No. 1 teams."
Last impressions: The fight song. Never gets old. Note the lyrics on the wall beneath the concession stands. Oh, to have been here for the football pep rally when speaker Paul Hornung's pants accidentally came down.
__________      
Ford Center (2011). Evansville, 84; Drake, 65
First impressions: The Ohio River is six blocks one direction, and campus is nearly two miles another. It's a downtown feel. Just up the block, a sign: Psychic readings today. Inside is a lot of Evansville purple, plus an admirable concession array. Not many college games offer hummus and baklava.
Not to miss: The lobby memorial for the 1977 plane crash that killed nearly the entire Evansville team. Included are pictures of the victims, and the eulogy of university President Wallace B. Graves: "Out of the agony of this hour, we shall rise." Unmentioned is the eerie part—David Furr did not make the trip because of injury, so was the only player to survive. Two weeks later, he was killed in an auto accident.
Last impressions: Famed Roberts Stadium, where great Evansville teams played for decades, is now a grass field. Too bad. Still, Ford Center suggests a city and university in sync.
 __________
Hulman Center (1973). Indiana State, 74; Northern Iowa, 60  
First impressions: Nine different Larry Bird pictures on the concourse. Also the big blue "Nellie & John Wooden" on the court, in his handwriting. He coached here two years before heading for UCLA, and insisted his wife's name go first if the court was to be named after him.
Not to miss: It'd be hard to, anyway. The 17-foot Bird statue. There he is, taking a jump shot at the corner of Eighth and Cherry streets. The statue, as every Sycamore knows, is several feet taller than Magic Johnson's in East Lansing.
Last impressions: The Sycamores student section—The Forest—revving up the noise as the team thumped Northern Iowa, chanting, "We want Wichita." Then booing when Indiana State ran out the clock to sit on 74 points. (Chick-fil-A for everyone when the Sycamores score 75.) "They want their free chicken," said Brenton Scott, who had 30.
 __________
Athletics-Recreation Center (1984). Valparaiso, 85; Green Bay, 70   
First impressions: A classic gym. As Coach Bryce Drew said, "When you first walk in, it doesn't have all the bells and whistles, but what we love is, it's really loud, people are on top of you, and our players love playing here. Those are advantages we'd rather have over bells and whistles."
Not to miss: Upstairs behind the bleachers is old Hilltop Gym. Peek in, and imagine a game there. Or Robert Kennedy speaking, as he did four weeks before he was assassinated. Note the 1945 team picture of the legendary "World's Tallest Team," which went 21-3 with several guys too tall for military service in World War II.
Last impressions: Program patriarch Homer Drew and wife, Janet, in their accustomed aisle seats. They were diagnosed with cancer within three days of one another in 2011, and are doing well. This win is the 500th at Valpo for the Drew coaching tree, from Homer to sons Scott and Bryce.
__________
Worthen Arena (1992). Kent State, 76; Ball State, 68
First impressions: The eight-sided building seems massive in scale, as if an alien spaceship has landed on campus. They built it large—11,500 for basketball—to attract concerts and other events. Ball State had to give away a home NIT game because the Lipizzaner Stallions had the place booked.
Not to miss: A radio guy's own trophy case. Morry Mannies called Ball State games for 56 years, and included in his memorabilia display is a Wheaties box signed by former Coach Rick Majerus. Hall of Fame plaques ring the concourse, from Super Bowl punter Brad Maynard to No. 1 baseball draft pick Bryan Bullington to the 1990 Sweet 16 team.
Last impressions: Magic Johnson came here once; wonder what he thought? The seating area is so vast, the athlete murals on the walls might be the largest in Division I. The Cardinals average 2,577 a game, and crowd noise has a lot of space to fill.
Last impressions of the tour, after a 6-4 state record, 63,969 paying customers, and 2,400 driving miles: IUPUI's Coliseum Indy skyline is the best court look, Fort Wayne Coliseum wins for best food (the Appleseed Burger Co., onion ring included), the introduction of the 1976 unbeaten champions at Assembly Hall the best halftime, Mackey the best student section, Ford Center the most moving lobby display, and Valpo's ARC the most intimate atmosphere. But overall, Hinkle is king.•
__________
Lopresti is a lifelong resident of Richmond and a graduate of Ball State University. He was a columnist for USA Today and Gannett newspapers for 31 years; he covered 34 Final Fours, 30 Super Bowls, 32 World Series and 16 Olympics. His column appears weekly. He can be reached at mlopresti@ibj.com.
 
Please enable JavaScript to view this content.