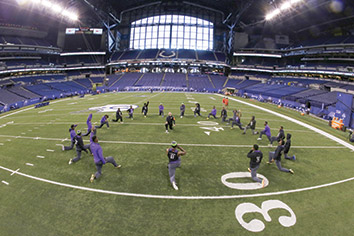 Indianapolis has hit pay dirt with a multiyear deal intended to keep the lucrative NFL Scouting Combine here through 2020, just as competition to host the high-profile event intensifies.
The deal—signed just days ago—finalizes dates over the next five years and outlines how the event will use space in Lucas Oil Stadium and the Indiana Convention Center in 2016 and 2017. The event this year will be Feb. 24-29.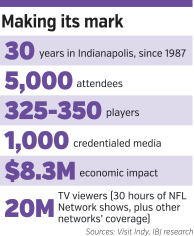 Until now, the contract to hold the Combine in Indianapolis was handled largely year-to-year, which made the prestigious event vulnerable to poachers.
But the new deal—in addition to fending off competitors—helps avoid conflicts with two other massive conventions that bookend the Combine and have a total economic of $28 million annually. It also guarantees thousands of hotel room nights and promises international exposure that tourism officials say can't be quantified.
"It can't be underestimated how big an undertaking this was and how complex it was to put this deal together," said Visit Indy CEO Leonard Hoops. "We were dealing with five organizations, so there were a lot of moving parts."
In fact, it took nearly a year to craft the deal, Hoops said.
Hoops
It was signed by three organizations: the National Football League, Visit Indy, and National Invitational Camp Inc., which is co-owned by the 32 NFL teams and is instrumental in operating the Combine.
The contract sets financial terms for 2016 and 2017 and includes three one-year extension options for 2018, 2019 and 2020.
Hoops said he "fully expects all of the extensions to be executed," with the 2018 extension anticipated to be finalized by May 1. Jeff Foster, president of the National Invitational Camp, agreed with Hoops' assertion.
"I'm a big proponent of keeping the Combine here because of our partners," Foster told IBJ. "I don't lobby to the NFL, but when they ask me, I tell them there's a good reason we've held the Combine here since 1987."
Still, NFL sources told IBJ that at least six other cities—including Atlanta, Dallas, Nashville and Orlando—have expressed interest in hosting the event, where pro football coaches, general managers and scouts evaluate 325-350 college players as they perform physical and mental tests.
Foster
And earlier this month, Los Angeles Rams owner Stan Kroenke staked a bid for the event in his plans for a $1.9 billion stadium that will open in 2019.
"Every city with a domed stadium is a potential competitor for this event," Hoops said. "Some of those cities have let it be known they'd like to take it from us. We've worked hard to make sure that doesn't happen."
In addition to Indianapolis' compact downtown and indoor connections between the stadium, convention center and hotels, Foster said Indiana University Health's handling of more than 400 MRIs and other medical tests in four days is key to the event's success.
"The board of my organization wanted this multiyear deal," Foster said. "My question is, could we transport players in a city like Chicago, Dallas or L.A. where we could do 400 MRIs in four days?"
But as the Indiana Convention Center calendar has become more crowded, Foster said, it "became more difficult to schedule the Combine. It just made sense to map out a longer-term schedule to make sure everyone was free and comfortable."
Hoops won't be happy, though, with merely exercising the option for the next year on the current agreement. He hopes to extend it to 2021.
"Our goal is to have a running five-year deal," he said. "We think that's best for the planning of all organizations involved."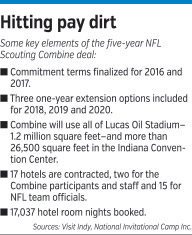 Matter of urgency
While the Visit Indy staff can relax momentarily, Hoops said the Combine won't be "an event we take for granted. We will continue to work with urgency to keep the Combine."
The pressure ratcheted up in 2015 when the NFL moved its annual draft of college players from New York to Chicago.
"That reinvigorated the conversation about potentially moving the Combine," Foster said.
This month's deal marks only the second time the Combine has been held in a city on a multiyear deal. Indianapolis inked a two-year hosting deal in 2007 when National Invitational Camp and National Football Scouting—both are groups Foster oversees—moved to Indianapolis after 40 years in Tulsa, Oklahoma.
Every other year, the event was planned and contracted annually.
Locking in dates for five years meant Visit Indy and the city's Capital Improvement Board—which owns the stadium and convention center—had to rearrange the convention center calendar, because the Combine wanted to move dates.
Because the college football playoff has pushed the national championship game a week later and the NFL then moved the draft a week later, league officials want the Combine shifted a week as well. Instead of starting 16 days after the Super Bowl, the Combine will take place 23 days later starting next year.
Combine participants need a certain amount of time to heal after their season and to prepare for the event, and teams need adequate time to evaluate players after the Combine and before the draft. Also, a small number of players—about 50—are called back to Indianapolis for follow-up medical testing six weeks after the Combine, right before the draft, so teams will have the latest information for decision-making.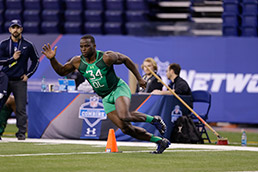 Former UCLA defensive lineman Owa Odighizuwa was one of more than 300 college players in Indianapolis for the Combine in 2015. (AP photo)
Visit Indy officials told the NFL they couldn't move the dates this year. But they said that, if the NFL agreed to a five-year deal, they would make the change starting in 2017.
That wasn't cheap, Hoops said, as two other conventions—the Water & Wastewater Equipment, Treatment & Transport Show and the Work Truck Show and Green Truck Summit—had to be given contract concessions to move their dates.
"Those conversations aren't easy to have," Hoops said. "These big events are planned years in advance because they're working with multiple constituencies."
Worth the hassle
But Hoops said the accommodations were worth the payoff. Not only does the Combine have an $8.3 million economic impact, according to Visit Indy, it's also viewed by more than 20 million people through 30 hours of coverage on the NFL Network, as well as coverage on ESPN and other sports television channels. For the first time in 2015, more than 1,000 members of the media were credentialed for the event.
"Some events are more than their economic impact," he said. "This event brings the city significant positive exposure. It's the kind of exposure you can't buy."
He said while several cities have offered the Combine free rent for their facilities, Indianapolis gets enough rent from the event for the stadium and convention center to at minimum pay for operations.
"For competitive reasons, the terms of the deal are not disclosed, but they're in line with our pricing matrix," Hoops said.
The Combine has a $2 million-plus budget, Foster said.
In addition to nailing down dates through 2020, the deal states the Combine will use all 1.2 million square feet of Lucas Oil Stadium and more than 26,500 square feet in the convention center.
The Combine will fill rooms at 17 hotels—two for players and staff and 15 for NFL team officials. That will use 17,037 hotel room nights annually. The Combine also rents the Grand Ballroom in Union Station across Illinois Street from the Crowne Plaza.•
Please enable JavaScript to view this content.