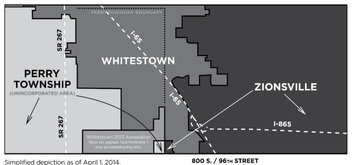 The Indiana Supreme Court ruled in favor of Zionsville on Friday afternoon in its ongoing reorganization battle with Whitestown.
The decision allows Zionsville to remain merged with Perry Township and keep the position of mayor. Governing bodies for the township and Zionsville authorized the arrangement in spring 2014 and voters in each community approved it in November 2014.
That year, Whitestown filed the lawsuit to prevent the reorganization and protect its western border, arguing that Zionsville did not meet the state's adjacency requirements for reorganization. The Indiana Court of Appeals ruled in favor of Zionsville in June, and Whitestown appealed to the state Supreme Court.
The court heard arguments from both sides in September.
"We acknowledge the vigorous arguments of Whitestown cautioning against potential challenges related to traditional concepts of governance and the allocation and assumption of township services, particularly with respect to the Whitestown residents located in the former Eagle Township," Supreme Court Justice Brent Dickson wrote in the 4-0 decision.
However, he added, "Issues of effective municipal governance are policy matters to be determined by legislative formulation, not by judicial intrusion."
After a favorable Court of Appeals ruling on June 2, Zionsville immediately added the position of mayor and transitioned to include Perry Township within its borders. Jeff Papa, then a Zionsville Town Council member, was sworn in as the town's first mayor, and former Perry Township Trustee Sam Baldwin was selected to serve on the council in his place.
Republican Tim Haak won the mayoral election in November and took office at the beginning of the month. Papa has returned to the council.
The merger with Perry Township adds 15 square miles of land to Zionsville, for a total of 71 square miles.
"I'm pleased with the decision. Having a mayor is a game changer for Zionsville," Papa said. "We can concentrate on moving our town forward and on building good relations with our neighbors."
Whitestown Town Council President Eric Miller said in a statement that officials are "obviously disappointed but we respect the Indiana Supreme Court's decision."
"We will continue to strengthen our relationship with the town of Zionsville and all of our Boone County neighbors as we move forward as the fastest growing community in the state of Indiana," Miller said.
The two fast-growing communities have been battling over land for years.
In 2010, Zionsville merged with Eagle and Union townships, absorbing the unincorporated land and responsibilities of the two governing entities. Zionsville has argued that this initial merger allowed the second merger with Perry Township because part of unincorporated Eagle Township bordered Perry Township.
But Whitestown argued that when Zionsville merged with Eagle Township, the township ceased to exist and so did the borders, so Zionsville doesn't border Perry Township.
The Supreme Court agreed with Zionsville, saying Zionsville did meet the adjacency requirement because of the small portion of land that was formerly unincorporated Eagle Township, even though that parcel does not border the rest of Zionsville. State code only requires it to be a strip of land at least 150 feet wide.
Correction: This story has been corrected to remove a reference to Whitestown's annexation of Perry Township land for a wastewater treatment plant. That issue is not addressed in the ruling.
Please enable JavaScript to view this content.