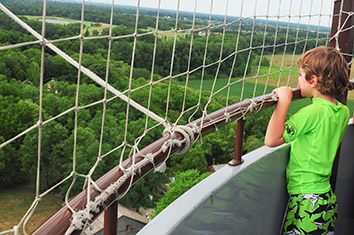 Conner Prairie plans to announce a new outdoor nature exhibit at its annual meeting on Wednesday, the history park in Fishers said Tuesday morning.
Park officials did not offer details about the exhibit, which is set to open July 1, but the park previously disclosed plans to open an attraction in the summer called "Treetop Outpost."
The exhibit is described as an "outdoor, interactive space" that "will engage visitors of all ages and help them explore the natural materials that make up their world."
Promotional materials say a "whimsical wooden and stone, 4-story treehouse will be the centerpiece of this new venue, inviting visitors to climb to the top and take in the view. Around its base will sit five diverse activity areas in which visitors can take the role of an archaeologist to dig into the past to uncover how Native Americans used the land."
The park also is scheduled to "reintroduce" the Conner House in March after restoring the interior of the 193-year-old former home of Indiana pioneer William Conner.
When the Conner House reopens, visitors will be able to "immerse themselves in interactive, technological exhibits that explore the questions of the day and how the land was settled, surveyed and sold," Conner Prairie officials said in a park newsletter.
The restoration and reinterpretation of the Conner House has been designated an official Indiana Bicentennial Legacy Project.
Conner Prairie also will introduce its new CEO at Wednesday's meeting. Norman O. Burns II, who has almost three decades of experience in leadership at historical attractions, is succeeding Ellen Rosenthal, who retired Jan. 4 after a dozen years as president and CEO.
The 850-acre Conner Prairie park, founded by Eli Lilly in 1934, draws more than 360,000 visitors annually. It has more than 400 employees and an annual operating budget of nearly $12 million.
Please enable JavaScript to view this content.