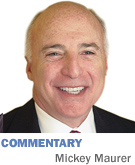 About four years ago, I received a form-letter solicitation from gubernatorial candidate Mike Pence. Somewhere in the middle of that six-page plea, he said, "I told people that I was a Christian, a conservative and a Republican. In that order. (I still tell people that today!)"

I wondered what kind of Christianity Pence intended to practice. I hoped for that of Thomas Payne, who said, "In the Age of Reason" (1794-95), "that religious duties consist of doing justice, love and mercy and endeavoring to make our fellow creatures happy." I thought that since Pence occasionally invoked the name of Mitch Daniels he would emulate his predecessor and put toxic social issues aside.

Now I know.

Pence as a Christian, a conservative and a Republican in that order attempted to deny not only union but the other benefits of marriage to loving couples just because they do not meet classic gender expectations. Against a rising state and national tide he advocated to its last gasp a constitutional amendment to deny marriage rights to gay couples and when that failed he brought us RFRA, which redefined "Hoosier" for all the world as a homophobic, uncaring bunch of yahoos.

Pence as a Christian, a conservative and a Republican in that order directed state agencies to withhold federal grant funds in an effort to halt resettlement activities for Syrian refugees. That action placed him at odds with numerous Christian faith-based groups, including the Roman Catholic Archdiocese of Indianapolis. It proceeded with plans to place a family of four from war-torn Syria in this city, saying receiving them was "an essential part of our identity as Catholic Christians."

Aside from these righteous assaults on vulnerable populations, Pence earns many high marks, particularly for economic development. Since January 2013, the Indiana Economic Development Corp., led by Secretary of Commerce Victor Smith, has secured commitments from 869 companies to locate or grow in Indiana. Together, those companies plan to invest $11.8 billion in their Indiana operations and create up to 73,292 new jobs for Hoosiers.

Pence has led seven international trade missions, meeting with business executives and government leaders in Japan, Germany, the United Kingdom, Canada, Israel and China. In the last three years, more than 90 international companies have announced plans to invest in or expand their operations in Indiana.

If I ever get back on the Pence mailing list I would like to see his seminal statement revised as follows: I am a Christian, a conservative and a Republican in no special order. I am a Christian, but do not vote for me on the basis of my religious beliefs. There are many paths to God. I am a conservative, but I have matured and mellowed these last four years in office. There is room in my approach to the conservative movement for tolerance to all. I will fix RFRA—a real fix that recognizes that exclusivity is not a Christian value and intolerant behavior should be considered not just offensive to non-Christians, but also offensive to all of us as Americans and citizens of a diverse community. I am a Republican. Look at my record of economic development.

I could vote for a guy like that, but it's not going to happen. Instead Pence continues to dance to the puppet strings of religious extremists: "I will not support any bill that diminishes the religious freedom of Hoosiers or that interferes with the Constitutional rights of our citizens to live out their beliefs in worship, service or work." (State of the State address 2016.)

Gov. Pence is essentially again "candidate Pence" as he runs for a second term. He has balanced budgets, maintained strong reserves and continued to earn triple A bond ratings. He is a nice fellow too—all the more reason his attempt to codify discrimination in the name of religion is lamentable.

As they say on Shark Tank, "I'm out."•

__________

Maurer is a shareholder in IBJ Corp., which owns Indianapolis Business Journal. His column appears every other week. To comment on this column, send e-mail to mmaurer@ibj.com.