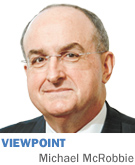 In recent weeks, the world has witnessed a spate of terrorist attacks in locations as disparate as Paris; central Africa; San Bernardino, California; and, most recently, Istanbul. These displays of barbarism, aimed at civilians where they live, work and play, have been carried out by people with no regard for the sanctity of life and have horrified peace-minded people around the world.
These events also have spawned a reflexive response among leaders and citizens of many countries to close ranks, with immigration debates intensifying around the world. To be sure, the instinct to draw closer to one another, to put up barricades, and to retreat from the larger world whenever heinous acts such as these are perpetrated on innocent victims is understandable.
The difficult reality, however, is that, in today's deeply interconnected global society, isolating one's self from the challenges—and the joys—of the rest of the world is simply not possible, or even advisable.
Rather, we should be looking for ways to come together, and to lower barriers by increasing our understanding of different cultures and the complex issues that too often tear us apart. Universities are ideally suited to play a vital role in fostering such understanding and in preparing the next generation of leaders to effectively navigate the unprecedented global challenges we are facing.
The need for our leaders of tomorrow to graduate from college with a high degree of global literacy was underscored on the Indiana University Bloomington campus in late October when U.S. Secretary of State John Kerry opened IU's Global and International Studies Building with a superb public lecture to nearly 3,000 people that provided a comprehensive survey of U.S. diplomacy and world affairs.
As part of his remarks, Kerry stressed the need for young people—as part of their education—to gain a strong understanding of the world around them, and encouraged the best and brightest of our students to seek rewarding careers in foreign service that is so essential to our country.
"I ask you a simple question," Kerry said. "Would you rather spend the next 40 years complaining about the world or would you like to try to improve it? Your country needs you."
To facilitate that need, universities must do a better job of providing internationally focused opportunities for all their students. For example, IU has significantly increased access to its study-abroad programs by providing greater financial support so that more minority and low-income students can take part in these life-changing experiences. At the same time, we have intensified our efforts to create more study-abroad options in countries outside of Europe, where most of our students have traditionally traveled.
In late December, I had the privilege of addressing about 2,000 of our newest graduates, who provided a vivid snapshot of the rich diversity universities can and should promote. About one-fourth of the class was international students representing 47 countries and more than 25 percent studied abroad during their time at IU. In fact, IU is among the top 20 out of more than 1,000 U.S. universities in the number of students who study abroad.
As I told these new IU alumni during their commencement: "Active and engaged citizens value universal human rights and the rule of law. They embrace diversity and are committed to inclusiveness—values that are also fundamental to Indiana University's mission."
Put even more broadly, it is my hope and belief that similar values should resonate with each of us, especially in times such as these when our differences threaten to irreparably divide us.•
__________
McRobbie is president of Indiana University.
Please enable JavaScript to view this content.