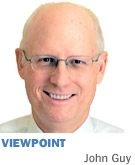 A few years ago, during the State of The State Address, Gov. Mitch Daniels looked to the gallery, then introduced the best teacher he ever had, his "favorite teacher."
This fine person was there to represent all teachers, or, perhaps implicitly, to compliment an excellent, effective teacher. Unfortunately, maybe she isn't.
This reminded me of David, my high school algebra, geometry and trigonometry teacher. I did not like him. One day (this is true), he accused me of cheating on a test, sending me off in tears before acknowledging his mistake. No one liked him. He was not friendly, personable or empathetic. (He also coached wrestling.) He never was mentioned as anyone's favorite, and never came out on top in annual surveys of students.
But wait. Today, 2-1/2-score years later, it turns out he was the most effective. After all the years, I still remember the basics of those three disciplines, none having practical value in my daily routine until we went sailing. That's right. Navigation requires skills in his three subjects.
An opposite experience also makes me wonder about favorite teachers. It was a high school project proposed by a teacher who is voted every year as someone's favorite. Parents said "all the kids" love this teacher. The teacher acknowledged she is popular, which I accepted without judgment until the project she proposed and managed failed, forcing me to consider a hypothesis that her goal is to be popular with students, not to aggressively market new ideas and to hammer quantities of information into the minds of students, as did David.
The superintendent of public instruction's Teacher of the Year program depends on an element of popularity because candidates must be nominated. (It is not based on measureable results.) The 2015 group of 10 finalists included three generalists and teachers of Spanish, science, choir, TV/media, music and art, and a literacy specialist who became the winner. The only nominee teaching a subject tested by ISTEP was the science teacher. All the others teach subjects not amenable to objective evaluation. Necessarily, evaluations of them are subjective, influenced by their personalities and abilities to relate to students, teachers, administrators and parents in equal proportion.
Indiana has more than 59,000 public schoolteachers. Our award system honors 10 with nominations, and one winner. Of the more than 1 million public school students, the "best" teacher affected less than 0.01 percent (assuming contact with 60 students). More than 58,000 teachers were not recognized in this manner, probably not in any manner.
Can we recognize and motivate all teachers who teach all students? We can, by treating every one as a professional, as a dedicated and hard-working individual, and by praising their schools. The principle is that positives motivate, negatives discourage. Perhaps also we should suspend recognition of those few talented and lucky individuals who, against all odds, become "our favorite teachers."•
__________
John Guy is a wealth manager and author of "Middle Man, A Broker's Tale."
Please enable JavaScript to view this content.