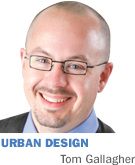 Cities are full of hidden mysteries, scores of decisions monumental and minute, that give them their form. Said another way, we build our values; so, we all have a part to play in the tale. It is my hope through this monthly column to bring to light our city's story and examine what works, what doesn't and how we, ultimately, advance Indianapolis' vitality. As a fitting beginning, I'll start with a discussion of elements that are veiled because they are so ubiquitous—our city streets.
Streets are a city's first ambassadors. Most in downtown Indianapolis, however, don't live up to our standards of hospitality. You've likely felt something is awry as you travel downtown but haven't put a finger on exactly what it is.
For any urban place, streets are one of the most challenging aspects to get right. No doubt, the trouble starts because these workhorses of the urban landscape are significantly misunderstood.
Many think of streets only in terms of transportation or traffic. Automobiles are such a regular part of our lives that it is hard to fathom city streets were not created for them. Nonetheless, streets have existed since the first city, while cars have been with us for, essentially, only a century. The founding of Indianapolis predates the first production motor vehicles by more than 65 years.
Some have a tendency to think of streets simply as the space left over after buildings occupy the blocks. In most American cities, however, street rights-of-way account for about 30 percent of the land use in a downtown area; in Indy, it's nearly 40 percent. We can't afford to allow such a large piece of our downtown to be treated as an afterthought. So how do we evaluate how our streets stack up as public spaces?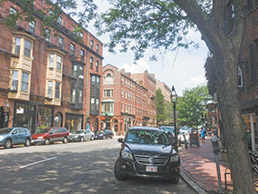 This Boston street has trees that help define spaces while the contrast in shade and light creates visual interest. Parked cars protect the sidewalk, which is made pedestrian-friendly by authentic-feeling signage, light poles and furnishings.
 (Photo courtesy of Ratio Architects)
On some level, we all know a great street, or a bad one, when we experience it. Unfortunately, there is no recipe that will be successful everywhere every time. Though complex, the quality of our urban streets can be considered objectively. The next time you are downtown, look at the streets, as I do, from the following three perspectives.
First, the easiest one: Does it seem technically sound? Let's call this perspective "synchronicity." Streets are full of intricate pieces that must work harmoniously together to provide comfort, safety and facility. Success in this category expresses itself in answers to questions like: Is my path clear from awkward obstructions? Is there standing water at the intersection when it rains? Is it too hot? Are there intuitive cues that tell me how to park next to a protected bike lane?
Second, beyond using the street as a way to get to your destination, is there a draw that compels you to spend time there? I like to say, does the place have "electricity"? Think of the street as an outdoor room. If the room is out of scale, it will feel either vast and empty or cramped and overbearing. If the walls of the room are bare, lifeless or missing altogether, you have no reason to linger. A fine-grained rhythm of storefronts with transparent windows brings the room alive. Not to be discounted is beauty—something as simple as a well-located tree, a keenly detailed wall or an artistically designed chair.
Third, does the street fulfill its role in the overall network and does it feel native to its place? Such "authenticity" is often the key differentiator of a great street. A main street has a role different from a side street or an alley, but all can be comfortable and attractive places. More profoundly, do the surroundings reflect the culture and identity of the community? Are the materials high-quality? Does the street integrate with the natural systems of which it is a part? Is the design thoughtful and timeless?
From the standpoint of these interlaced perspectives, with few exceptions, streets within the Mile Square are poor performers. Alexander Ralston's plat for Indianapolis, while iconic, has made systemic a number of issues, like our too-wide streets (we'll return to this topic in next month's column). It also offers noteworthy opportunity.
The decades-long resurgence of downtown Indianapolis is significant and meaningful, particularly in terms of activity and destination. Our streets, however, lag behind. As our city continues to complete for talent with places like Denver, Austin, Minneapolis and Raleigh, we cannot abide a lackluster first impression. Even less can we afford to be without a rich and engaging public realm.•
__________
Gallagher is an urban planner with Ratio Architects.
 
Please enable JavaScript to view this content.