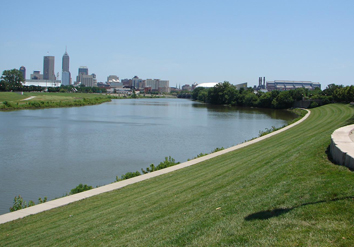 It's no joke.
City tourism officials would like to develop the banks of the White River as a tourist attraction—possibly even building a beach where locals and tourists alike would congregate.
Officials for Visit Indy told IBJ on Friday they plan to pow-wow with new Mayor Joe Hogsett and City-County Council members this year and begin site inspections along the river downtown with the hopes of having tourist attractions in place by 2025.
Visit Indy CEO Leonard Hoops dropped the bombshell announcement on more than 800 people at the group's annual meeting Thursday in the Indiana Convention Center.
During his presentation to the mayor and various city and state dignitaries as well as various hospitality industry executives, Hoops flashed a photo of Paris, France, on a big screen in the Sagamore Ballroom.
Hoops, who came to Visit Indy from the San Francisco Travel Association in 2011, said while he's heard the criticism that Indianapolis has no mountains or oceans countless times, he added that there's another city like that: Paris.
"That city seems to be doing just fine," Hoops said. "It's managed to do quite well as a visitor destination."
Another common thread Indy has with the City of Lights; a river runs through it.
At Thursday's gathering, Hoops flashed a photo of the River Seine—which runs through Paris—on the screen. One photo included beach front along River Seine. "We could do that," Hoops said.
Hoops went on to explain that developing the shores of White River is part of Visit Indy's 20-year master plan. Hoops even mused about a name: "White River State Beach."
There were some quizzical looks among those at Thursday's glitzy gathering as if they weren't sure Hoops was serious.
But Visit Indy Vice President Chris Gahl assured IBJ on Friday that Hoops was dead serious. As part of Visit Indy's first regional tourism master plan launched last year, the city tourism marketing arm targeted the shores of White River running through downtown for development as one of its key objectives for keeping the city competitive as a convention and tourism destination.
"We could be talking hotels, cafes, restaurants and other attractions," Gahl said. "We know it's a bold idea. And one that needs to be fully fleshed out, which we hope to do in 2016."
From the research—including surveys of more than 3,000 people from across Indiana—that Visit Indy conducted leading up to its regional master plan, Gahl said: "We know people are attracted to water."
"We believe White River is an underutilized, naturally occurring tourism asset steps from downtown," Gahl added. "We're looking to spark conversations and ideas how to develop the water front in a way that will draw people to the city and be an economic driver."
The White River itself is considered a public waterway, while the banks downtown are owned by a combination of the state, city and private landowners.   
White River State Park Executive Director Bob Whitt said he was "pleasantly surprised" that one of the highlights in Hoops' presentation was ideas on the development of White River's downtown banks.
He's firmly on board with Hoops' ideas. White River State Park owns the river banks from New York Street south to Washington Street.
"I think the possibilities are almost limitless," Whitt said. "We could have a kayak course like they do in Denver, a river cruise, we could do some type of strategic damming to create and accommodate other attractions and have a combination of residential and commercial developments."
Whitt thinks the 2025 timeline to have projects built along the river "is very realistic."
"We could probably do it sooner than that," he said. "There's no doubt in my mind that there will come a time when White River will become a recreational waterway and the appreciation resulting from that will be wide ranging. I think that type of development would be hugely impactful in making downtown more of a destination."
There are at least two major hurdles to Visit Indy's plans.
First, parts of the White River downtown are polluted. That would be an especially serious issue with any sort of attraction prompting people to get into the water.
"Ensuring the cleanliness of the White River would happen first and foremost ahead of any possible tourism development along the water," Gahl said.
And already, the Deep Rock Tunnel Project—which helps keep sewage from White River during heavy rains—has done a lot to improve the river's water quality, Whitt said, and it's only getting better.
But secondly, it hasn't yet been determined where the money would come from for any such developments. Public-private partnerships would likely be needed to bring any developments to fruition.The development of White River is a front burner issue, Gahl said, adding that Visit Indy aims to commission research this year to identify the best development sites along the downtown portion of the river and the costs of site preparation and development.
"If we don't continue to aspire and plan ahead," Gahl said, "our competitors will pass us by."
Please enable JavaScript to view this content.