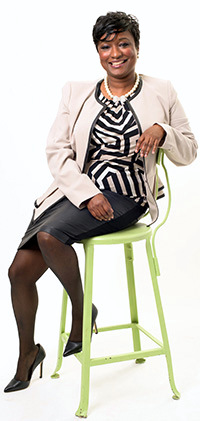 Legislative Director
Office of the Mayor
Camille Blunt joined the new administration of Mayor Joe Hogsett in January after working 14 years at Bose Public Affairs Group, where she left as the second vice president specializing in lobbying for education and health care clients, including the Indiana Urban Schools Association. A member of the Indianapolis Public Library board, Blunt will now oversee the city's relations with the Legislature.

Uniformed parenting: Blunt said her biggest influence has been her mother, who served as an IMPD officer for 33 years, retiring as a lieutenant. "She was a single mother, but made sure my sister and I had everything we wanted and needed, while always supporting us in everything we wanted to do. She is a strong woman who has taught me how to succeed in a profession where there is rarely anyone else in the room that looks like me."

Lobbying assumptions: "I think people assumed I spend a lot of time playing golf and taking people out to dinner," Blunt said of her career in lobbying. "That's a part of it, but what I did more of was spending time educating people—working the legislators, helping them understand how various laws would impact various entities. ... The role is not to twist and manipulate."

QUICK FACTS
Age: 38
Hometown: Indianapolis
Family: children, Sydney, 10, and Alexander, 7
Social media: Facebook and Instagram
Reading pile: Not having a lot of time to read means collecting "tidbits from various news outlets."
Playlist: Loves '90s hip-hop. "If you see me driving down Pennsylvania Street on the way to the office, I'm probably singing or rapping."
Picking and choosing: In addition to being a board member with the library, Blunt served as corresponding secretary for the Alpha Mu Omega chapter of Alpha Kappa Alpha sorority and chairwoman of the marketing/public relations committee for the Martin Luther King Community Center. She also volunteered with Junior Achievement. "I don't have the time to commit to fixing something or coming in and revamping a whole organization," she said of her charity choices. Instead, she chooses to help groups that "are in proper order. At this point in my career, it's important to be present for my children, and I can't give as much as I would want to."

Point of pride: One of the proudest moments in her career was being invited to participate in the inaugural Advance 317 class as part of the Indy Chamber's Leadership Exchange trip. "This group was created to diversify the attendees, but to also allow young professionals an opportunity to provide a different perspective on what is needed in Indianapolis to keep and attract individuals to our city. It was an opportunity I will never forget."•

Check out more 2016 Forty Under 40 honorees.