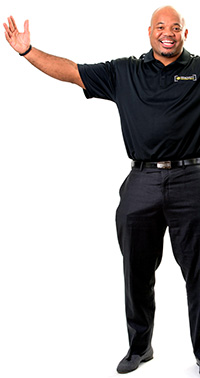 Founder, CEO
Brackett Restaurant Group
When he retired from the NFL in 2012, Indianapolis Colts linebacker Gary Brackett didn't kick back and watch game films—he earned an MBA from George Washington University, opened Stacked Pickle restaurant franchises, launched Brackett Restaurant Group (which purchased all the Stacked Pickle locations), and partnered to create Georgia Reese's on West 86th Street and, later, downtown.

Overtime: Brackett was thinking about his post-NFL life even as he entered the league as an undrafted free agent. "I never thought I would play nine years," he said. "For me, any year in the NFL was a blessing." In the off-season, he took executive education courses and picked the brains of local businesspeople. "I wanted to be an entrepreneur," he said.

Prime partner: Originally looking at sports-related businesses, Brackett realized it would be best to open a franchise with someone experienced. He teamed up with Stacked Pickle founder Chris Long. "I was a silent partner," Brackett said. "He dealt with operations, and I learned a great deal. I always laugh and say, 'I don't need 100 percent of the profits because I don't need 100 percent of the headaches.' If you want to go fast, go alone; if you want to go far, go with some partners."

QUICK FACTS
Age: 35
Hometown: Glassboro, New Jersey
Family: wife, Regan; children, Gabrielle, 6, Gary Jr., 4, Georgia, 2
Social media: "The big three: Facebook, Twitter and Instagram"
Reading pile: "I'm a big John Maxwell guy. And Malcolm Gladwell."
Playlist: John Legend, Adele, jazz and R&B ... "I like easy listening."
Leading different teams: Brackett said he doesn't lead his restaurant crew in the same way he led the Colts. "Effective leadership isn't one-size-fits-all. You have to figure out what each individual's hot points are and how to motivate them in a way that makes sense to them."

Room for lockers: In addition to being an in-demand speaker, Brackett is board chairman for Impact Foundation, a charity he founded to help youth and their families affected by devastating and life-changing medical incidents. Its signature program, Gary's Lockers, fills lockers at area hospitals with computers, video games, movies, books and toys for young patients and their siblings to use while the child undergoes treatment. It also provides free outings to sporting events and other activities. He also serves on the board of Methodist Health Foundation.

Post-games perk: And the best thing about being a restaurateur? Said Brackett: "I get to host a party every day."•



Check out more 2016 Forty Under 40 honorees.