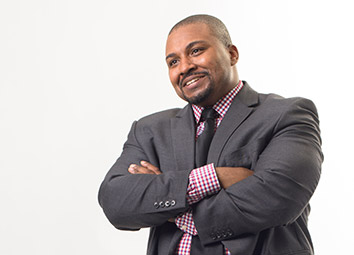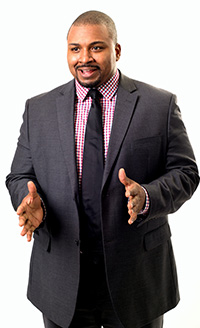 Director of Partner Relations
Visit Indy
A fundraising executive leading a team that generates $1.2 million in annual unrestricted funds for Visit Indy, Marshawn Wolley developed and managed the Capital Improvement Board Matching Grant program and created a food-trucks group of over 40 mobile eateries—all while launching social justice organizations and being a single father.
Pre- and post-game action: Wolley initially resisted working on the 2012 Super Bowl Host Committee. "I didn't want to take the risk. And I'm not a sports enthusiast," he said. "But my boss told me I needed to take that job." After the game, Wolley was in the midst of interviews with several companies. "Basically, Visit Indy was aggressive," he said. "They created something for me."
Proud push: Wolley had previously worked for Nubian Construction Group on the Indiana Convention Center Phase V expansion. One of his prouder moments: fighting to get a contractor to honor its commitment to women- and minority-owned businesses. "I made the case, pressed the issue and got senior leadership on board. The contractor not only honored its commitment but continued to work with one of the subcontractors after the [project]." Wolley believes that project set a standard for MWBE participation on public works projects in the city.

Quick Facts
Age:
34
Hometown: Indianapolis
Family: son, Alexander, 3
Social media: a lot of Facebook for promoting
Reading pile: "Good to Great," by Jim Collins; "The New Jim Crow: Mass Incarceration in the Age of Colorblindness," by Michelle Alexander
Playlist: Sam Cook, Lenny Williams
Justice applied: Inspired by the grand jury ruling on the shooting of Michael Brown in Ferguson, Missouri, Wolley founded Focus on Youth. "I decided then and there, 'Uh, no. This will not happen in my city," he said. He mobilized a group of urban millennials; partnered with organizations including the NAACP, Urban League and Indiana Black Expo; and lobbied the Legislature on social justice issues. He also launched the At Risk Youth Outreach Project, focused on closing the school-to-prison pipeline. "Just because a young man or a young woman was caught shoplifting does not mean they have to enter into a life of crime." In addition, he serves on the board of 100 Black Men and is an adjunct faculty member at IUPUI teaching a social justice course.
Proud of papa: Wolley's role models include his own father. "My dad, Chaplain Michael Wolley, walks with kings, but has never lost the common touch," he said. "He has met several U.S. presidents and other dignitaries, but will still stop and advocate for the homeless guy to be let in the fast-food restaurant because it's cold outside. There are no 'small' people with my dad."•
Check out more 2016 Forty Under 40 honorees.
Please enable JavaScript to view this content.