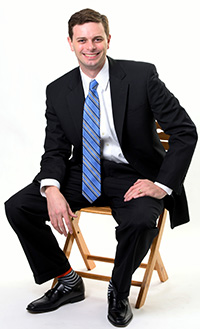 Associate
Taft Stettinius & Hollister LLP
A 2016 Indiana Super Lawyers Rising Star and an Indianapolis Bar Association Young Lawyer of the Year, Ronan Johnson serves or has served on a range of boards and committees, including Meals on Wheels of Central Indiana, Leadership Indianapolis, Charles A. Tindley Accelerated Schools and the Penrod Society.

Top secret: Johnson has helped close over 25 mergers and acquisitions, ranging from $90,000 to $200 million, with a total value of well over $1 billion. Most of the companies are privately held, so he can't discuss details.

Business background: Johnson worked for an industrial uniform supply company and was told he was being groomed for general manager and then vice president. "In my head, I said, 'That's great ... but I really don't like my boss's job and I really, really don't like my boss's boss's job.'" That pushed him to law school at Washington University in St. Louis. It was snowing as he moved to Indy in 2011 and he "didn't see the ground for my first 35 days here."

QUICK FACTS
Age: 35
Hometown: Seattle, Washington
Family: wife, Beth; 10-month-old twins, James and Tess
Social media: LinkedIn professionally, Facebook personally
Reading pile: "Getting Things Done," by David Allen; "The
House of Morgan" by Ron
Chernow
Playlist: Lately, Bruce Springsteen, James Taylor. "Since the twins
were born, I seem to have a lot
more of that kind of music around."
The same, only different: On his work at Taft, "Regardless of whether it is helping a local family sell the only business they are ever going to sell, helping a private-equity fund acquire a new company for its portfolio, or helping a Fortune 500 company spin off a business unit, it is very satisfying and rewarding ... to help the client achieve their goal or dream."

Meet and greet: Johnson created the Intro to Indy series to help younger attorneys. "I was often told by fellow attorneys ... that they wished to get more involved in the Indianapolis community but didn't really know where to start," he said. His first series featured events involving the Indianapolis Zoo's Associate Council, the Emerging Leaders Program of the United Way of Central Indiana, Leadership Indianapolis, and the Young Professionals of Central Indiana. "Indy is a very welcoming community, but it can be very daunting to put yourself out there and take the first step," he said.•



Check out more 2016 Forty Under 40 honorees.