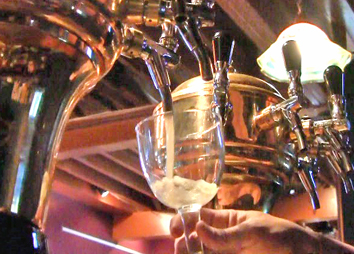 Northern suburban communities could get more alcohol permits for restaurants and bars under legislation the House could approve this week.
House Bill 1118, authored by Rep. Todd Huston, R-Fishers, would authorize 10 new three-way alcohol permits (which allow the sale of beer, wine and liquor) in Hamilton County and up to 10 new three-way or two-way (beer and wine only) or one-way (beer or wine) licenses in Boone County.
Local officials say the permits are needed now to accommodate development that's been stymied under a state system that allocates permits based on population.
Most municipalities in those counties have hit their permit limits, which are based on U.S. Census Bureau figures that are updated only every 10 years. Cities in the northern suburbs have experienced rapid growth—adding thousands of new residents before the new census is recorded.
When a community hits its cap, the only way a business can obtain a permit is to purchase an existing one from a current permit-holder. Privately sold alcohol permits can cost $25,000 to $90,000. The state typically charges $1,000.
The issue has caused some communities to find creative ways to add more permits. For example, Noblesville recently created the Riverfront Redevelopment District, which by state law allows an unlimited number of liquor licenses within 1,500 feet on either side of a buildable river bank.
Noblesville limited the number of permits to 10 new three-way licenses and eight new two-way licenses, but the City Council can vote to increase that.
Other cities, including Westfield and Fishers, are paying for special census counts to update official population figures in between the regular 10-year count.
The proposed new permits must be used by a restaurant or establishment within a designated economic development or redevelopment district. The permits would cost $20,000.
Initially, the legislation applied only to Hamilton County, but several Boone County municipalities also expressed a need for the additional licenses.
Whitestown Town Manager Dax Norton said at least two significant projects in the Anson development along Interstate 65 have yet to move forward because both would include new restaurants seeking liquor licenses.
"It's becoming an economic development and job creation problem," Norton said.
Officials from Westfield, Fishers and Carmel also spoke at the House Public Policy Committee hearing Jan. 13.
"It's having a real chilling effect for us to be able to lure new restaurants to our downtown area," said Matthew Skelton, Westfield's director of economic and community development. He said Westfield is also drawing hundreds of thousands of visitors to Grand Park Sports Campus—people who aren't factored into the population data that determines permit numbers.
The House Public Policy Committee approved the bill 12-1 and it could receive a vote during Tuesday's House session. The deadline for the House to vote to send it to the Senate is Wednesday.
Please enable JavaScript to view this content.