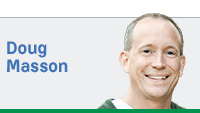 In this bicentennial year, it's fitting that road funding legislation is a central part of the legislative session. Internal improvements—roads, canals, railroads and the like—were a dominant feature of early Indiana policy. They were vital to the state's economy, but they took the state to the financial brink on at least two occasions.
Internal improvements were a central plank of the administration of Indiana's first governor, Jonathan Jennings. The fledgling government pursued ambitious road and canal projects to enhance the commercial appeal and economic viability of the state.
Tax revenue from the small Hoosier population proved insufficient, and the state looked for revenue through land sales and government bonds issued to state banks. The state's tenuous financial situation and the Panic of 1819 combined to knock the state-chartered banks off their shaky foundations.
Ultimately, Indiana was forced to depreciate its bonds and significantly harm its credit. In the 1830s, the state's hunger for internal improvements resulted, once again, in ambitious legislation. Gov. Noah Noble signed the Indiana Mammoth Internal Improvement Act to build turnpikes, canals and railroads. Again a panic—the Panic of 1837—combined with an overextended state treasury to produce financial disaster.
Indiana was forced to repudiate much of its debt, and its credit suffered greatly.
Even so, the internal improvements that had been constructed before these collapses proved invaluable to the state. The infrastructure initiated by Jennings attracted settlers to Indiana. Indiana's population grew 15-fold from 1816 to 1850.
And, while the state lost millions on the Mammoth Internal Improvements, land value in the state increased significantly and the cost to farmers of shipping their goods decreased substantially, improving the profitability of their efforts.
The financial integrity of the state government is important. However, it also is important to recognize that the economic strength of Indiana ultimately resides in the viability of the commercial efforts of its citizens. The state's infrastructure underpins those efforts.
In the current session, there appear to be two main visions for funding our deteriorating state highway system. Gov. Mike Pence is unwilling to raise taxes and, instead, wants to take money from the state's reserves, issue debt, and tap the trust fund from the Indiana Toll Road sale ahead of schedule.
Meanwhile, Rep. Ed Soliday has proposed a competing funding bill that uses a longer-term approach to highway funding: most notably by increasing Indiana's gas tax from 18 cents per gallon to 22 cents per gallon.
I believe Hoosiers, by and large, are willing to pay taxes if they are satisfied that the taxes will be spent on something useful and will not go to people they regard as undeserving.
The state needs a long-term solution for highway funding, and if we want to continue such funding on a "use tax" model, raising the gas tax is a reasonable approach. Given the wild fluctuation of gas prices overall, it is difficult to imagine that 4 cents per gallon will be terribly noticeable to the average motorist.
History has shown that internal improvements benefit the economic prospects of our citizens and that failing to secure reliable funding for the improvements can result in fiscal disaster for the state government. Pence's approach, relying on debt and lowered reserves, is reminiscent of his predecessors, Jennings and Noble. We would be well-advised to follow Soliday's lead and find a more stable funding source.•
__________
Masson is a Lafayette attorney, author of Masson's Blog and former counsel for the Legislative Services Agency. Send comments on this column to ibjedit@ibj.com.
Please enable JavaScript to view this content.