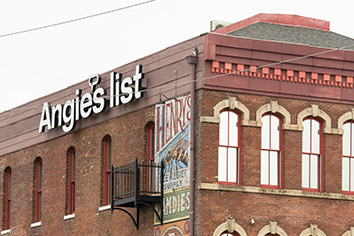 New York-based Internet giant IAC/InterActiveCorp is gearing up for another run at acquiring Angie's List Inc., The New York Post reported Tuesday.
Indianapolis-based Angie's List spurned a $512 million takeover bid by IAC in mid-November.
The Post, citing a source close to the situation, said IAC is waiting until after Angie's List reports quarterly earnings later this month to announce the new bid. Angie's List hasn't yet announced an official earnings release date but analysts expect it to be on or near Feb. 17.
IAC, founded and controlled by billionaire media mogul Barry Diller, owns Angie's List competitor HomeAdvisor. Diller said combining HomeAdvisor and Angie's List would create a home-services powerhouse.
Golden, Colorado-based HomeAdvisor on Tuesday confirmed it has locked up plans to open a 10,000-square-foot office in downtown Indianapolis with 50 salespeople later this month.
Angie's List CEO Scott Durchslag, a former Best Buy executive, has resisted the idea of selling the company, despite activist pressure. He said IAC's bid undervalued the company and he preferred to explore organic growth plans to increase shareholder value.
Angie's List has mostly been unprofitable since its 2011 initial public offering. Investors initially were OK with sacrificing profit for growth, but the company's stock has fallen from about $28 a share in mid-2013 to the single digits. Shares traded at $8.70 each Wednesday morning, up 4 percent on the day.
Some analysts believe a hostile takeover bid could be coming if the two companies don't eventually hash out a friendlier merger.
IAC on Tuesday reported a disappointing profit of 75 cents a share. Wall Street expected 93 cents.
IAC shares fell 2.9 percent Wednesday morning, to $50.68 each.
Please enable JavaScript to view this content.