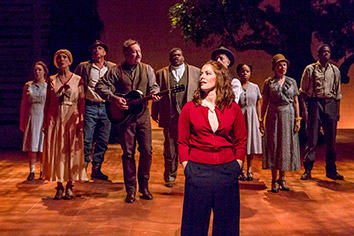 While in high school in New Jersey, I latched onto any student organization or club that even hinted at the possibility of a field trip to Philadelphia or New York.
These journeys gave me the chance to witness obscure shows (including a musical based on Tolstoy's "Strider: The Story of a Horse") and classics, from "The Bacchae" to "A Chorus Line." They exposed me to and left me open to unfamiliar music ("Ain't Misbehavin'") and showed instead of told me why Shakespeare was Shakespeare (James Earl Jones and Christopher Plummer in "Othello" will do that for you). For a kid from a lower-income family in a small, relatively arts-free town, the trips were life-changing.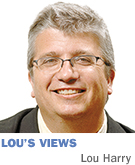 Which is why I was pleased to hear that more than 10,000 students will be privy to Indiana Repertory Theatre's production of "To Kill a Mockingbird" (through Feb. 28). My enthusiasm isn't over the fact that these kids will be going to the theater. It's that they will be seeing quality theater.
To be clear, "Mockingbird" isn't an exclusively student-focused production. It's part of the IRT's main-stage season. Still, full disclosure, I almost skipped this go-round for the show, having seen two previous incarnations at the IRT (in 1997 and 2008).
I'm glad I opted for another visit to Harper Lee's Maycomb, Alabama. This time, Director Janet Allen didn't simply re-create those previous productions. Instead, she's infused the play with a rich inner life. It's not a radical rethinking, but a care in staging that echoes IRT's "A Christmas Carol" in its efforts to treat a warhorse as if it's a foal.
The first of two wise decisions was casting Lauren Briggeman as the narrating older version of lead character Scout Finch. Briggeman is one of the region's strongest reactive actors. She's masterful at capturing the core humanity of characters—even, as here, when she doesn't have any direct verbal interaction with others.
The second transcendent move was adding original music and traditional arrangements by Tim Grimm (who is also terrific as lawman Heck Tate). Whether it's incorporating the African-American spiritual "Hush-Hush, Somebody's Callin' My Name" into the opening, or the incidental music played by a wandering guitarist, music helps create a palpable sense of time and place, filtered through memory.
Narrator and music give theatrical anchors to the story of a young white girl's encounter with racism in her town. Besides Grimm, strong support comes from Charles Goad and Milicent Wright. Christopher Walz—doing double duty as Boo Radley and Judge Taylor in addition to lending his musical talents—and Daniel A. Martin—as the falsely accused
Tom Robinson—are now on my radar as actors to watch.
Meanwhile, busloads of students aren't likely to be dropped off at the Studio Theatre for Actors Theatre of Indiana's "Sweeney Todd: The Demon Barber of Fleet Street" (through Feb. 14).
That's a shame. I speak from experience (I saw the original Broadway production of "Todd" and the first national tour on those aforementioned high school field trips) when I say that an outstanding, edge-of-the-seat musical thriller with a glorious score like "Todd" is probably more likely than "Mockingbird" to turn a student into a life-long theatergoer.
The Stephen Sondheim/Hugh Wheeler musical is now considered one of musical theater's greatest works. But the ATI crew doesn't forget that it's earned that distinction in part because it's a thrilling funhouse of a show. When attending the tale of Sweeney Todd, an audience shouldn't just settle in and relax with Sondheim's glorious music. Instead, it should be unsettled—in a good way.
Don Farrell plays the title role in Actors Theatre of Indiana's "Sweeney Todd."
ATI's production, helmed by Richard J. Roberts (who freshened last season's "My Fair Lady") with musical direction by Johnna Tavianini, starts off good and creepy, with its crystal-clear delivery of "The Ballad of Sweeney Todd." In it are the lyrics, "What happened then/well that's the play/and he wouldn't want us to give it away," and I'm going to honor that demand, allowing you to discover for yourself what happens, in case you aren't already familiar.
I will say that ATI artistic partners Don Farrell, Judy Fitzgerald and Cynthia Collins have wisely cast themselves as Todd, the meat-pie-making Mrs. Lovett, and the around-every-corner Beggar Woman and rise to the acting and vocal challenges. (I've never heard Farrell in stronger voice.)
Paul Nicely, contrary to his name, is a disturbing Judge Turpin. John Vessels is as strong in vocally supportive chorus moments as he is as rival barber Pirelli. And the youth of high-schoolers Elizabeth Hutson and John Collins adds considerably to the juvenile leads, who are often played by older actors. I was surprised to catch lyrics I had missed in other versions—and thrilled by a visual surprise in the second act that caught me completely off guard.
Alas, it's difficult to imagine a high school teacher today trying to explain to an administrator the value of field-tripping to see a show about a revenge-seeking serial killer and his cannibalism-encouraging partner in crime.
But that shouldn't keep you—whether a Sondheim fan or a newcomer to the show—from attending.•
__________
This column appears weekly. Send information on upcoming arts and entertainment events to lharry@ibj.com.
Please enable JavaScript to view this content.