Local apartment developer TWG Development LLC plans next month to begin delivering the first units at Lockerbie Lofts before pivoting to its long-anticipated second phase of Pulliam Square.

Knoble
The projects collectively will add another 550 units downtown, where thousands of apartments have been built in recent years to satisfy a voracious appetite for more rental housing in the city's core.

But demand for new apartments in the Indianapolis area finally appears to be softening.

A forecast from real estate brokerage Marcus & Millichap shows apartment vacancies rising for the first time since 2012, from 6.4 percent in 2015 to 6.8 percent this year, as the number of developments continues to surge.
Tikijian
The projected increase may be slight, but it's enough for the Calabasas, California-based Marcus & Millichap to sound the alarm bells.

"The saturation of deliveries in the [downtown] core will keep supply ahead of demand, driving vacancy upward," the firm predicted in its forecast.

Marcus & Millichap ranks Indianapolis 45th out of 46 cities in its National Multifamily Index, which uses economic indicators and supply-and-demand variables to rank markets' attractiveness for investment.


The firm anticipates developers in the Indianapolis area this year will complete 3,000 units—the most since the building boom began in 2012.

And that doesn't even count Flaherty & Collins Properties' $121 million, 28-story 360 Market Square that's expected to open in June 2017. Or Buckingham Cos.' $110 million second phase of CityWay and J.C. Hart Co. Inc.'s $50 million Montage on Mass, both in the works. The three projects together promise to add nearly 1,000 units.

TWG is taking notice and has no plans to pursue another downtown project after it completes Lockerbie Lofts and Pulliam Square.



If the firm does move forward with another project, it would be very selective in choosing a location, TWG President Tony Knoble said.

"We're definitely watching the market and being careful," he said.

Knoble views the $28 million, 215-unit Lockerbie Lofts, at the northwest corner of East Michigan Street and North College Avenue, and the $63 million, 478-unit Pulliam Square, on the former headquarters of the Indianapolis Star, as poised to benefit from prime locations.

But Pulliam Square's 145-unit first phase, which was finished on Oct. 1, is just 50 percent occupied.

Knoble said TWG is satisfied with the leasing considering it opened the development at the "wrong time" of the apartment-renting season and is offering no concessions to help lure renters, Knoble said.

More developers, however, are starting to offer a free month's rent and other enticements to help lure tenants to their properties—a move that would have been unthinkable just a year ago.

Michael Wernke, senior vice president of investment and multifamily services at Resource Commercial Real Estate, recently surveyed nine downtown properties totaling 2,500 units in an attempt to gauge vacancies. He found occupancy varying widely, from 70 percent to above 90 percent.

"It seems to be project-by-project in terms of which ones are having more difficulty than others," he said. "To the extent that we're overbuilt, I don't see it yet."

But Marcus & Millichap sees challenges looming. The firm notes that the 3,000 units scheduled to be completed this year represent a 25 percent increase from the 2,400 finished in 2015.

"I would think at this point [developers] would be very selective in any new apartment projects they're thinking about bringing to market," Regional Manager Josh Caruana said.

Local apartment brokerage Tikijian Associates is more optimistic. The company predicts in its 2015 market overview that vacancy essentially will stabilize this year—at 7.1 percent compared with 7.2 percent in 2015—after several years of big declines.

George Tikijian, the firm's senior managing director, ultimately thinks the local apartment market will become saturated. He just doesn't know when.

"At some point, we're going to hit the point where more units are delivered than the market can absorb," he said. "But I've been thinking that for a couple of years now, and every year they get leased."

Much of the activity is downtown, where the surge in construction is expected to result in 30,000 residential units by 2020, according to projections from public-private partnership Downtown Indy.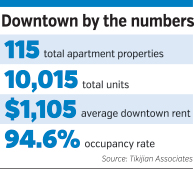 Young adults who want to live and work downtown—and are willing to pay more—are driving the demand.

A one-bedroom unit at TWG's Lockerbie Lofts, for example, will command $1,250 per month. That's much steeper than the city's average monthly rent of $820—up 4.5 percent from 2015, according to Marcus & Millichap's report.

Flaherty & Collins' Market 360 Square, under construction on part of the oldMarket Square Arena site, calls for 292 luxury apartments with floor-to-ceiling windows and panoramic views of the city renting for $1,300 to $2,400 per month.

Preliminary demand for units is "off the charts," CEO David Flaherty gushed, noting that the company's developments normally don't start generating interest from potential renters until about three months from opening.

That, combined with the 90 percent occupancy at its Axis at Block 400 project, anchored by a Marsh supermarket, has Flaherty excited about downtown's future.

"We are not the least bit concerned about our urban infill developments," he said in an email. "We are big believers in downtown Indianapolis and are actively pursuing other downtown development opportunities."•