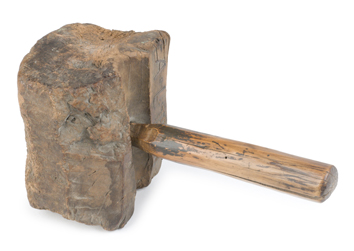 Abraham Lincoln wasn't nicknamed "The Railsplitter" until his 1860 campaign for president. But Lincoln had been splitting actual rails—turning logs into fence posts—since his boyhood.
A tool he used to do that splitting now has found its way to the Indiana State Museum.
There, it will go on display for the first time on Lincoln's birthday, Feb. 12, and remain on view through 2016. It's on loan to the museum for at least a year, officials said.
The tool doesn't look like the long-handled maul familiar from his iconic campaign portrait. After the maul head split in half, Lincoln converted it into a bench mallet, using it to drive pegs into furniture. (Lincoln's father, Thomas, mainly earned his living through cabinet-making, and Lincoln himself dabbled in the craft.)
"There is absolutely no evidence that he ever used it on Congress," quipped Gov. Mike Pence at the unveiling.
The mallet includes Lincoln's inlaid initials and the date 1829 made from cut nails. Born in 1809, Lincoln lived in Indiana from 1816 to 1830.
While its value cannot be calculated, the mallet has been insured to $250,000, according to Steve Haaff, credited by the museum as the foremost expert on Lincoln furniture made in Indiana and a key player in acquiring the piece for the museum.
Held for five generations by the family of early southern Indiana settler Barnabas Carter, the mallet had been in the possession of siblings Keith Carter of Evansville and Andrea Solis of Saline, Michigan. It had been displayed in the family's Spencer County living room without historians being aware of its existence.
While the museum's Lincoln collection is extensive—thanks largely to the addition in 2008 of historic objects and art from the Lincoln Financial Collection, one of the world's most extensive accumulations of Lincoln artifacts—it was short on objects related to his Indiana years.
"The first question I always get [regarding the museum's Lincoln collection] is, 'Where's the Indiana material?'" said Tom King, President and CEO of the Indiana State Museum. "That changes today."
According to Haaff, owner Keith Carter and his family had no interest in selling or promoting it. "But he knows the importance of it, which is why he wants it out there," he said.
"As we celebrate 200 years of Indiana' history," said King, "we are thrilled to be able to confirm what we at the museum already know to be true: History is exciting and ever changing."
"I love Indiana history. I love Abraham Lincoln. So it just doesn't get any better than this," Pence said.
 
Please enable JavaScript to view this content.