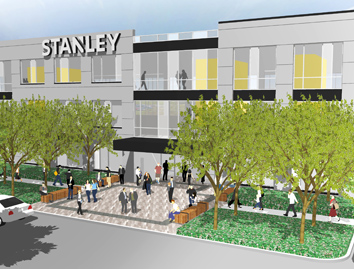 Two area companies that employ hundreds of workers plan to build new headquarters in Fishers, Mayor Scott Fadness announced during his State of the City address Wednesday.
The two developments combined could be worth $24 million, Fadness said.
Stanley Security, which makes residential and commercial security devices and systems, plans to construct a three-story, $15.9 million headquarters in Fishers Point Business Park on the corner of Kincaid and Sunlight drives. More than 300 employees are expected to work in the 80,000-square-foot building.
About 150 of those employees already work at an existing Stanley facility in Fishers. Another 165 will move to Fishers from Noblesville and out-of-state locations. No workers from Stanley's operations in Indianapolis will be moved to Fishers.
The building will be constructed near the planned interchange at 106th Street and Interstate 69. The offices would be near the proposed Sun King Brewing Tap Room and Pilot Brewery, which is expected to open no later than 2018.
Stanley Security, which was known as Best Lock until being acquired in 2003 by Stanley Works, is currently headquartered at 9998 Crosspoint Boulevard in Fishers.
In addition, Braden Business Systems Inc., an office equipment, information technology and security firm, plans a $5.6 million, four-story headquarters building on the corner of North Street and Municipal Drive in the Nickel Plate District.
Braden will occupy 20,000 square feet, and the city of Fishers will master lease the remaining 15,000 square feet. Braden is expected to move its 70 employees to the headquarters and add as many 90 workers by 2020.
The Fishers Redevelopment Commission advertised the 0.62-acre parcel—which is now being used as a staging area for construction of the $28 million mixed-use Switch development—in December for project proposals, including office and retail space.
Fadness said the RDC did not receive any bids for the property, so city officials suggested it to Braden when company executives expressed an interest in moving to downtown Fishers.
The property is directly to the south of the Fishers City Court building and north of the parking garage for the Switch.
Braden Business Systems, founded in 1989, is now headquartered at 9430 Priority Way Dr., just south of 96th Street near Keystone Parkway. The company has added 30 workers in the last six months following two recent acquisitions.
Braden recently reached an incentive agreement with the Indiana Economic Development Corp., which was announced Wednesday. The IEDC offered the firm up to $1.45 million in conditional tax credits and up to $100,000 in training grants based on the company's job-creation plans.
The Fishers City Council is expected to consider economic development agreements for both projects when it meets Monday. Fadness said he is proposing a 10-year tax abatement for Stanley, and a partial tax abatement and a donation of land for Braden. The value of the incentives was not immediately available.
Fadness said the council could approve both deals Monday, and if approved, construction on both projects could start this spring.
During his State of the City address, he outlined progress the city has made toward becoming a "smart, vibrant, entrepreneurial city." He used the two company announcements as proof  of progress.
The city expects another economic development announcement on Thursday that would bring 500 new jobs to Fishers.
"I can tell you that the momentum will continue," Fadness said. "There is truly something special happening here."
Editor's note: This story has been corrected from its original version to reflect that Stanley Security is currently headquartered at 9998 Crosspoint Boulevard in Fishers and that no workers from Stanley's operations in Indianapolis will move to the new Fishers headquarters.
 
Please enable JavaScript to view this content.