Conner Prairie is well-known nationally to museum insiders. But new CEO and President Norman Burns II wants to make the historical park in Hamilton County a destination for more travelers, in part by getting the community to take ownership of the attraction.

The museum's new leader officially took over the 800-acre interactive history museum in Fishers at the end of January. He replaced Ellen Rosenthal, who spent 16 years there, 12 as president, and retired at the end of 2015—a year Burns described as "remarkable."

The park broke records for attendance and had its single-largest donation. The year was so good Burns plans to use 2015 as a benchmark for the years to come.

But the 54-year-old Tennessee native—who has a deep background in history and not-for-profit management—thinks Conner Prairie can do even better. He plans to seamlessly build off Rosenthal's momentum by boosting fundraising, raising the museum's national profile and increasing respect locally for its economic value.

"I look forward to this challenge," said Burns, a self-described no nonsense guy. "It just seems like the right fit for me personally and professionally."

Rosenthal
Rosenthal announced in June that she would leave at the end of the year to care for her 92-year-old mother.

She is credited with significantly increasing attendance and transforming Conner Prairie into an interactive adventure for visitors that incorporates learning experiences with math, science, technology and engineering.

She added popular exhibits, including the 1859 Balloon Voyage and 1863 Civil War Journey and helped the park become Indiana's only Smithsonian Institution-affiliated museum.

The impact of projects she started will continue to be felt as the museum reopens the Conner House this year and introduces the four-story Treetop Outpost that will give visitors an opportunity to experiment with natural material and archaeology, create nature-based artwork and play with musical instruments.

"I think in order to sustain vibrancy and grow audience, it's important to keep always offering something new," Rosenthal said. But that is expensive, she acknowledged.

When she left, Conner Prairie had an operating budget of $11 million, with nearly 70 percent earmarked for programming.

Ricker
Jay Ricker, Conner Prairie's board president and chairman of Ricker Oil Co., said Rosenthal left "big shoes to fill."

"We knew that," he said. "A lot of times, you have a visionary leader and then that person for whatever reason retires or leaves. … The next person is there to take it to the next level, and we all felt Norman could take it to that next level."

More than 60 people applied for the position from all across the country, and the board narrowed the list to four finalists.

Ricker said he couldn't attend Burns' job interview, so he flew to Richmond, Virginia, to meet him before the board made its decision.

"There was just no question that he's the guy," Ricker said. "If you wanted to pick someone with the perfect resume prior to joining Conner Prairie, it would be Norman's."

Burns spent nearly a decade as executive director of the Maymont Foundation in Richmond, Virginia, and before that helped lead four different historical museums in Tennessee.

The Maymont Foundation is a 100-acre, 130-year-old estate built by philanthropists James Henry Dooley and Sallie May Dooley that attracts 500,000 visitors annually. It has a $4 million operating budget.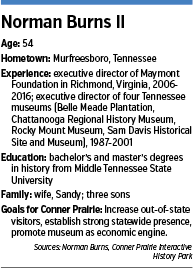 During his tenure, Burns launched a multiyear, $35 million capital campaign and helped raise $21 million.

His interview was not his first trip to Conner Prairie—he visited in the 1990s and in 2009 when the Balloon Voyage exhibit opened.

"Conner Prairie is nationally known within the museum community, so I've known about it my entire career," Burns said.

Rosenthal wasn't directly involved in the hiring process, but helped the board outline desired characteristics for job candidates.

She said she was not worried turning Conner Prairie over to its new leader.

"Well, maybe a little," Rosenthal said. "Conner Prairie has been a worry for so long. You just don't turn that off, but it's in great hands."

She has not met Burns, but said he "seems perfect for the job."

"I think there's a benefit to having an outsider take over. The longer you're someplace, you get taken in by group-think and you start talking in an echo chamber," Rosenthal said. "It's time for someone else to shape the future of Conner Prairie."

Since accepting the job, Burns has spent most of his time meeting with staff, community leaders and board members, and he expects that to consume his schedule the next few months.

He's hesitant to outline specific goals or plans just yet.

"I've been here less than two weeks," Burns said. "I'm still in the process of reading the book, if you will, before I start writing my own chapters."

But he does have a few general things on his to-do list, including strengthening Conner Prairie's reputation outside the Indianapolis area and helping community leaders understand the economic impact the museum contributes.

About 91 percent of the museum's visitors are from Indiana, and while he doesn't have a targeted percentage in mind, Burns would like to see that balanced with guests from out-of-state and other countries.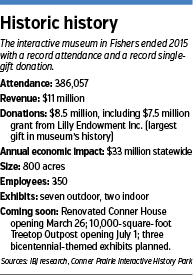 "Conner Prairie is too remarkable of a site to just be locally visited," Burns said.

He doesn't foresee investing in a national marketing campaign, but hopes that incorporating three exhibits and events into Indiana's bicentennial celebration this year will start to generate more statewide interest.

The museum is expected to be a stop during the bicentennial torch relay Oct. 13, which will overlap with the park's annual Headless Horseman event. Burns said the museum is also considering an idea to designate "county days" to honor specific areas of the state and invite visitors from those locations.

Burns also said he plans to brainstorm new ways to generate revenue and fundraise and help community leaders understand why Conner Prairie needs donations.

"A lot of people probably assume we don't need any money, and that's the furthest thing from the truth," Burns said.

Many local leaders don't realize how significant Conner Prairie is to the economy, he said.

It has an annual impact of $33 million statewide. In both Marion and Hamilton counties, it has an $11 million annual impact.

"I think that, when you think about businesses in the greater Indianapolis area, quite often you're thinking about manufacturing. You're thinking about banks and corporations and the service industry," Burns said. "I don't think people really think about nonprofits being an economic engine for the community."

He has worked to change that perception in his roles at other not-for-profits and intends to do so here, hopefully with the help of other cultural organizations.

"That is a large sector of the economy that people just don't even think about," Burns said. "We're here to shout it from our new Treetop Outpost."

He declined to say whether he will make staffing changes.

"We've had staffing changes that have had nothing to do with me," he said. "I'm still evaluating. … We have a fabulous staff here at all levels."

Burns said he's probably introduced himself to three-fourths of the organization's 350 employees, but hasn't individually spoken to everyone.

"I don't know that I have 100 percent buy-in from the staff," Burns said. "I don't know that anybody does when they first come in."

He also wouldn't reveal his salary other than to say it will be similar to Rosenthal's.

She earned $200,015 in 2013, according to public documents.•