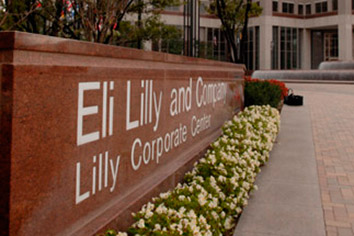 The party is winding down for Cialis and the fun-loving bathtub couples.
The erectile-dysfunction drug, made famous by a slew of quirky commercials featuring middle-age couples reclining outdoors in side-by-side bathtubs, is facing performance issues of its own.
Cialis eked out sales growth of just 1 percent last year, the smallest annual increase since the drug hit the market in 2003. That compares to 30 percent growth in its early years, and 12 percent growth as recently as 2013.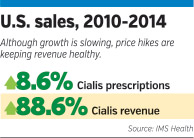 Now, with sales flattening out, the future looks even more challenging. Cialis' patent is set to expire next year, making it the latest in a string of Eli Lilly and Co. blockbusters that will face low-priced generic competition that could cut sharply into sales.
Some analysts expect Cialis, which had worldwide sales of $2.3 billion last year, to fall below $1 billion in annual sales by 2019.
To add to the pressure, the U.S. market for erectile-dysfunction drugs is shrinking. U.S. pharmacies filled 16.2 million prescriptions in 2014, down 13 percent from 2010.
In response, Lilly has been advertising Cialis aggressively and hiking prices, while offering $200 discounts to patients who buy a 30-day supply, which could normally cost up to $900. Competitors Pfizer and GlaxoSmithKline are offering discounts of their own for Viagra and Levitra.
The global market for ED drugs is expected to drop about 20 percent, to $3.39 billion, from 2012 to 2019, according to the research firm Transparency Market Watch.
"I think the market is saturated, and there's some generic Viagra already floating around," said Les Funtleyder, a health analyst for E Squared Capital, a New York hedge fund. 
Viagra, like Cialis, won't lose its patent exclusivity until next year. But the generic version of Viagra, sildenafil, is already on the market as a low-cost alternative to Revatio, a pulmonary arterial hypertension drug. Both Viagra and Revatio are sold by drugmaker Pfizer.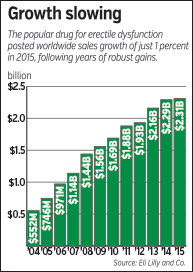 Doctors say patients still want ED pills, but many health plans don't cover them. ED drugs typically cost $20 to $30 a pill.
"These drugs can be so expensive that a lot of people can't afford them anymore," said Dr. Jason Kovacs at Urology of Indiana. He said he sometimes prescribes a compounded version of Viagra, which costs about one-quarter the price of the branded pill.
Dr. Matthew Mellon, a urologist at Indiana University Health, said some patients are looking high and low for cheaper alternatives.
"Some people are going through Canada or online warehouse places where you don't necessarily need a prescription," he said.
Lilly, for its part, says it is pleased with the performance of Cialis, the world's top-selling ED drug. More than 45 million men have taken it. And while sales growth is slowing, at least it isn't shrinking. Sales of Viagra have been declining for at least three years.
"At a high-level perspective, we think Cialis is performing very well," Lilly spokesman Scott MacGregor said.
He pointed out that Cialis actually overtook Viagra in 2013 in market share, and in 2015 for total sales.
Still, he acknowledged the product is facing challenges, including the flood of counterfeit ED drugs from overseas and unfavorable foreign exchange rates.
But Lilly isn't shy about putting lots of marketing muscle behind Cialis. Turn on your TV during an evening football game or open a men's magazine, and you are likely to see a Cialis ad. Lilly spent $248 million in 2014 to promote the drug directly to consumers, making it the most-advertised drug in the world, according to Nielsen.
Lilly declined to say whether it plans to keep advertising Cialis so aggressively.
"I won't disclose marketing plans," MacGregor said. "But we do continue to advertise. Obviously, that has been a strong part of our strategy."
Drug's discovery
Cialis is one of the best-known products in Lilly's 140-year history, along with the antidepressant Prozac and its portfolio of insulins.
But Lilly did not invent the drug. The discovery was made by others, and somewhat by accident.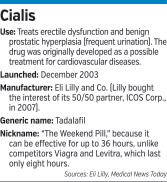 In the early 1990s, British drugmaker Glaxo Wellcome (now GlaxoSmithKline) began studying the compound for cardiovascular diseases with ICOS Corp., a biotechnology company based in Bothell, Washington. The two companies formed a 50/50 partnership.
In clinical trials, ICOS scientists discovered the drug caused penile erections, and the experimental drug took an unexpected turn. Midway through the trials, in 1996, Glaxo let its agreement with ICOS lapse, choosing to focus on other drugs.
In 1998, Lilly stepped in and agreed to pay ICOS an upfront fee of $75 million, at about the same time the drug was going into expensive, late-stage trials. The two companies agreed to share the marketing and sales, and split profits 50/50.
The drug was approved by the FDA and hit the market in 2003. A year later, Cialis rang up $552 million in sales and began a long climb upward, breaking through $1 billion in sales in 2007, the common threshold for a "blockbuster" drug.
That revenue, split in the early years with ICOS, helped cushion a financial blow for Lilly. In 2001, the company had lost the patent exclusivity to Prozac, its biggest-selling product up to that time, two years earlier than expected as a result of an unfavorable court ruling, pushing the company into a financial crisis.
In 2007, Lilly bought out its partner's interest in Cialis for $2.3 billion. ICOS closed its doors soon afterward, unable to launch another drug.
Pricing strategy
For the past nine years, as sole owner of Cialis, Lilly has seen product sales and product recognition soar.
Clearly, Lilly is trying to keep consumer demand strong. But why would the company raise prices year after year on a maturing product, making it unaffordable for so many patients?
According to data firm IMS Health, Cialis sales in the United States (the product's largest market), shot up 88 percent from 2010 to 2014, even as the number of prescriptions for the product rose only 8.6 percent, meaning the company raised prices sharply over that time period.
Lilly makes no secret of that, pointing out in financial filings that Cialis sales were driven largely by higher prices. But it declined to quantify the increase, or provide the average price of the drug today.
Keeping prices opaque and pushing through steady price increases would seem to make the company ripe for criticism, especially on the heels of a year when drug prices were in the news nearly every week.
"Lilly knows exactly how much money it can extract from this product," said Dr. Soeren Mattke, a senior scientist at the RAND Corp., a California think tank, and a frequent critic of the pharmaceutical industry. "They have a lot of experts and consultants who spend a lot of time figuring it out."
But Lilly defends the price hikes. The company pointed out that Cialis not only treats ED, but was approved in 2011 to treat the symptoms of another condition, benign prostatic hyperplasia, caused by an enlarged prostate gland and which can cause a frequent need to urinate.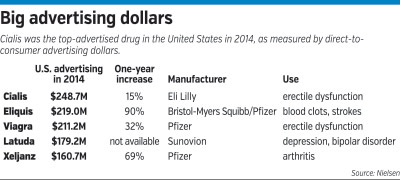 That increased the value of the drug, MacGregor said. "Those types of things play into our discussions with payers," he said.
In the meantime, Lilly is looking for ways to extend the life of Cialis, one of its most successful drugs, which has generated total sales of more than $18 billion since hitting the market.
Two years ago, Lilly rolled out a proposal to sell Cialis over the counter in the United States, Europe, Canada and Australia after patents expire next year, in a partnership with French drugmaker Sanofi.
It's still unclear whether the Food and Drug Administration and other regulatory bodies around the world would approve such a move.
The FDA did not return a phone call to discuss the matter. Lilly said discussions are continuing.
"We're still having conversations with the FDA of the feasibility of moving forward," MacGregor said. "We haven't made any public disclosures since making the announcement [in 2014], but it's certainly a possibility once Cialis goes off patent." •
Please enable JavaScript to view this content.