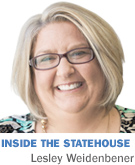 It's easy to think about addiction as a social issue, one that tears apart families or is at the root of so much crime.
But the scourge of heroin and prescription drug abuse and alcoholism is about far more than an individual's battle with his or her demons. It's also about productivity and the workplace and the economy.
Consider that 8 percent of employees are illicit drug users, according to data released by the White House. Those workers are far more likely to miss work than their counterparts who are clean. They switch jobs more often—because they quit or get fired—and they are more likely to be injured.
In all, the nation suffers more than $120 billion in lost productivity each year due to problems related to drug use—including addiction treatment, incarceration and premature deaths.
For years, the people concerned with these problems nibbled at it only on the margins. Most states, including Indiana, have been far more likely to throw drug users in prison than to get them treatment. And there's been little appetite to fund what treatment exists, leaving addicts facing waiting lists or significant financial barriers to help.
But that attitude is changing, said Sen. Jim Merritt, R-Indianapolis, one of a number of Indiana lawmakers now on a crusade to reform the system and make help more readily available.

Merritt
"We're all-out assaulting it," Merritt said.
The Republican senator introduced seven bills dealing with drug use or addiction in some way. And more than a dozen were introduced overall. As the session winds to a close (lawmakers are expected to adjourn for the year on March 10), only a few are still moving.
Among them is a bill to make the heroin overdose antidote Narcan available over the counter. Statewide, emergency responders estimate they've saved more than 8,000 lives since lawmakers made it legal in 2014 for them to carry and administer the drug. Now, Merritt and others want Narcan available to anyone who might know a heroin user.
Legislation headed to Gov. Mike Pence's desk would expand use of the state's INSPECT program, which is accessed by doctors and pharmacists to report and track prescriptions for controlled substances. If enacted, the bill will let dentists, advanced-practice nurses, physician assistants and podiatrists use the system as well.

Davisson
"This legislation is intended to curb the unfortunate abuse of prescription drugs in our state," said the bill's author, Rep. Steve Davisson, a pharmacist in Salem. "Expanding the use of the INSPECT program to more Hoosier prescribers is an important step in preventing individuals from doctor shopping."
Other bills would revamp a state commission that coordinates drug abuse programs; expand detoxification treatment to more Hoosiers on Medicaid; and require that the Healthy Indiana Plan, an insurance program for low-income residents, cover counseling services for substance abuse treatment.
These are modest and somewhat disjointed steps. But they dovetail with Pence administration efforts to better coordinate existing services and make new treatment options available, including to those in state prison and county jails.
The long-term goal, Merritt and others say, is to make both short-term detoxification and long-term addiction treatment available and accessible and affordable to every Hoosier who needs it. Indiana is a long way from achieving that, but closer than it was yesterday.•
__________
Lesley Weidenbener covered the Statehouse for two decades—a span that included five governors, 20 regular legislative sessions and countless campaigns—while working for three news organizations. She is now IBJ's managing editor.
Please enable JavaScript to view this content.