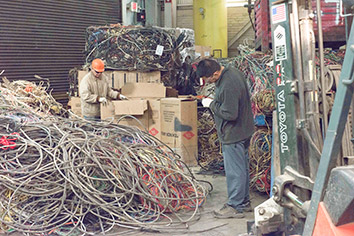 Not that long ago, recycling was a business for fun and profit. But these days, it's hard to find a recycling operation having much of either.
With prices tumbling for scrap metal, used paper and old plastic bottles, recycling firms around Indiana are watching revenue drop. Most are working harder to find buyers that will pay a decent price for their truckloads of materials. Some are idling operations.
The downturn is putting pressure on operators to cut costs and could take a bite out of government budgets that used to rake in money from the sale of paper, scrap and other recyclables.
Workers at J. Solotken & Co., a 102-year-old scrapyard on the east side, spend hours a day sorting metals the company buys from stamping plants and fabricators.
But for all their work, a truckload of sorted scrap metal that would have fetched $120,000 two years ago from a mill or foundry now is likely to get only $65,000. Solotken's revenue has fallen 25 percent in the past two years, President Joseph M. Alpert said.

Alpert
"There's too much supply and not enough demand," he said. "We're not losing money, but we're not making what we did two or three years ago."

At Steel Dynamics Inc., a steel maker based in Fort Wayne, the company's metal recycling operations lost $16 million during the fourth quarter. Selling prices for its recycled materials fell an average of 36 percent last year.
And the outlook for improvement isn't great, company officials say.
"The recycling environment remains challenging," CEO Mark Millett said on a Jan. 26 conference call with analysts. "Many regional players in the industry are either for sale or headed to bankruptcy."
Gabriel Metals in Lebanon, with about 17 employees, recently idled a small recycling operation, CNP Recycling, citing "severe market conditions."

Needleman
No large Indiana recycler has shut its doors in the past year, said Carey Hamilton, executive director of the Indiana Recycling Coalition, which represents haulers and recyclers, in addition to the processors and manufacturers that buy the recycled materials.
"Yes, markets are down, and that has caused some pain for the entire sector, but we're not hearing alarm bells," Hamilton said.
But around the country, other recyclers are feeling plenty of pain. Metal scrap dealers, which have seen prices fall more than 50 percent in the last 18 months, seem to be feeling the worst of it.
In North Carolina, B.P. Greer Recycling Inc. recently filed for bankruptcy reorganization, and its attorney told a local newspaper the scrap metal industry "is absolutely getting killed."

Hamilton
In New York, Sims Metal Management Ltd., a metals and electronics recycler, closed 10 facilities and cut 500 jobs, or about 9 percent of its workforce.
One of the biggest scrap recyclers in Illinois, Pure Metal Recycling LLC, gave notice last month it plans to shut down operations, throwing hundreds out of work.
In Missouri, St. Louis Metal & Recycling Co. recently said it would sell assets and shut operations.
The Institute of Scrap Recycling Industries, a trade group based in Washington D.C., said export sales of scrap in 2015 had their worst year since 2006.
Just about every recycled commodity, from steel to cardboard, fell in price last year—some continuing a multiyear slide. The ISRI Index—a weighted index of scrap metal and recovered paper prices—fell to the lowest year-end level since 2008.
"It is far from clear when commodity and scrap prices will hit bottom," Joe Pickard, the group's economist, wrote in a newsletter last month.
Falling oil prices, a weakening Chinese economy and a drop-off in demand for scrap have pummeled the market for a wide variety of goods, from takeout boxes to old stainless steel sinks.
Prices for polyethylene terephthalate, a material in plastic bottles and polyester fibers, have fallen 54 percent in the past 18 months, according to RecyclingMarkets.net, an online commodity pricing index for post-consumer recovered materials.
 
In the same span, the market for recycled paper has fallen, too, but not as sharply: about 25 percent for office paper and 21 percent for old corrugated containers.
In response, some Indiana players are doing business a little differently. At Ray's Trash Service, the largest recycling operation in the city, low prices mean workers are more likely to bundle different grades of paper together, rather than separating them and sending higher grades to a buyer that would pay more.
"Sorting them no longer makes economic sense," said Calvin Davidson, the company's general manager.
At Technology Recyclers, a 4-year-old firm on the southeast side, employees sit around work benches to take apart computers and other electronics. They recover metals from the wires and circuit boards, remove the glass, and shred much of the rest.
As markets fell, the company began to aggressively gather more cast-off electronics from universities, government offices and businesses. The company expects to collect 2,600 tons of electronics this year, up from 400 tons in 2011. Yet, revenue stayed level for most of that time, due to falling prices for recovered materials.
"We have had to work harder just to stay flat," said Dale E. Needleman, business development manager and partner.
With the collapse in prices and tough times for operators, it would seem households and businesses would have a tough time finding anyone to haul away their recyclables.
But several recycling organizations say they have not heard of any cities dropping recycling programs or business customers being left high and dry in search of a hauler.
"I'm glad to say, so far we haven't seen those sorts of repercussions," said Hamilton at the Indiana Recycling Coalition.
But the depressed market for recyclables and commodities was a factor in the recent decision by Indianapolis Mayor Joe Hogsett and energy company Covanta to suspend a contract to build a $45 million commingled trash and recycling center.
Critics had said the company's plan was far from green, because customers would throw trash and recycling materials together, and many products would have been contaminated. They also said Covanta would not separate glass at all, or recycle many plastics.
Covanta had promised it would recycle at least 18 percent of the city's waste stream.  
A company spokesman, James Regan, has said the slump in recycling markets was among the reasons the company agreed to suspend the deal. But he said other reasons were larger factors—like the need to keep healthy relations with city officials, including the new Hogsett administration. The deal had been brokered with Mayor Greg Ballard, who left office in December.
"Obviously, the decline in globalcommodity pricing impacts the overall profitability of the project, but it was not the primary factor in the decision to suspend the project," Regan told IBJ.
The deal got another setback on Feb. 24, when an appeals court said Indianapolis violated city code by failing to enter into public bidding for the deal.•
Please enable JavaScript to view this content.